Band: Artizan
Titel: The Furthest Reaches
Label: Pure Steel Records
VÖ: 24.04. 2015
Genre: US/Melodic/Progressive Metal
Bewertung: 4,5/5
Written: by Daniel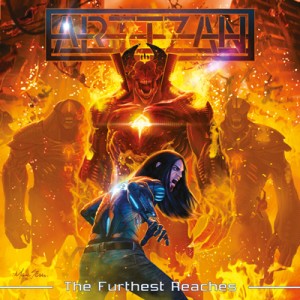 Was sind das nur für Zeiten, in dem jede noch so musikalisch belanglos aggierende Kapelle einen Pusch und einen Deal bei einem größeren Label erhält, während einer der besten Melodic Metal Unikate der gesamten Rock/Metal Historie sich ihr drittes Werk mit einer Growdfunding Kampagne finanzieren muss?
Da schämt man sich, auch wenn am Ende alles gut ist und ARTIZAN mit diesem Album ein weiteres Mal großartiges abliefern. Merkmale des Signature Sounds sind die vertrackte Rhythmusarbeit, über der großartige Gitarrenmelodien gelegt werden und Tom Braden. Er klingt mit seiner angenehmen, melodischen Stimme (trotzdem er sich ziemlich offensichtlich an Dickinson orientiert), heutzutage fast einmalig. Wer klaren Gesang mag, wie ihn beispielsweise Heir Apparent bieten, wird hier also Freudensprünge machen.
Nachdem der Vorgänger Ancestral Energy bei nicht wenigen als Meisterwerk des melodischen Heavy Metals gilt, enttäuscht The Furthest Reaches zunächst erst einmal. Unumstritten sind Hopeful Eyes, das mit Gatssängerin  Sabrina Cruz intonierte Duett Wardens Of The New World und Into The Sun Glanztaten, offerieren sie doch die geniale, eingängige Melodieführung mit hohem Haltbarkeitswert, für die diese Band wie keine andere steht.
Jedoch treten im Vergleich zu den ersten beiden Alben diesmal die Gitarren etwas mehr in das tonale Zentrum, was für logischerweise für mehr Härte sorgt. Und ARTIZAN legen hier ihr sperrigstes Werk vor, dadurch lässt man dem Hörer anfänglich die magischen Momente beinahe komplett missen.
So geht beispielsweise das für die Band eher ungewöhnlich harte – und mit einem dezenten Gastspiel von Ashes Of Ares Fronter Matt Barlow versehenen – The Cleasing anfangs doch etwas zu straight in meine Ohren.
Nachdem man The Furthest Reaches ein paar Durchläufe gegönnt hat, entpuppen sich aber neben The Cleansing auch Summon The Gods, das fast zehnminütige The Furthest Reaches und Supernova diesbezüglich als absolute Grower.
Mal schnell gehört ist also nicht, dieses Album – das die Geschichte von der Rückkehr einer außerirdischen Rasse zur Erde erzählt – wächst bei mir auch jetzt noch und könnte langfristig vielleicht sogar an Ancestral Energy anknüpfen. Es will erarbeitet werden, und es lohnt sich, denn genauso stark wie seinerzeit das Debüt ist es allemal.
Neben der gewohnt hohen musikalischen Qualität muss man auch wieder einmal die klare, transparente und fette Produktion loben, die einen gewichtigen Anteil daran hat, das alle Alben in denen der Artizan seine Reisen begeht, zeitlos sind.
Lohnen tut sich übrigens die Anschaffung der Limited Version, die neben einem grandiosen Coverartwork ein großartiges Styx – Cover als Bonustrack enthält. Die Amis untermauern ihren Status als eine der besten US Metal Kapellen eindrucksvoll und sind jedem der klassich geprägten, zeitlos guten Heavy Metal mag, wärmstens zu empfehlen.
Trackliste:
01. Coming Of Age
02. Summon the Gods
03. Hopeful Eyes
04. The Furthest Reaches 5. The Cleansing
06. Wardens of the New World
07. Heed The Warning
08. Supernova
09. Starchild
10. Into The Sun
11. Come Sail Away (Bonus Track Limited Editon)
Besetzung:
Tom Braden – vocals
Shamus McConney rhythm guitar
Bill Staley – rythm, lead guitar
Jonathan Jennings – bass
Ty Tammeus – drums
Artizan im Internet:
Homepage
ReverbNation