Band: Blind Guardian
Titel: Live Beyond The Spheres
Label: Nuclear Blast
VÖ: 07.07.2017
Genre: Heavy Metal/Power Metal
Bewertung: 4/5
Written By: Peter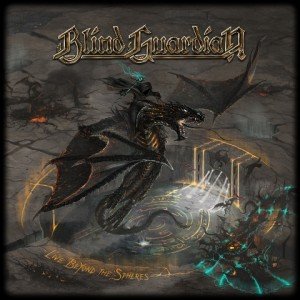 Blind Guardian gehören seit Jahrzehnten zur Speerspitze des deutschen Power Metals; anfangs ging man eher straight zu Werke, um über die Jahre immer differenziertere und progressivere Alben zu backen. Zu den Großen der Schublade gehört man nicht, wenn man über dreissig Jahre nur Kacke auf CD brennt. So war auch meine Erwartungshaltung in Bezug afufdas neue Live-Album der Krefelder, Live Beyond The Spheres, eher positiv.
Was war zu erwarten? Nicht unbedingt eine gesamte Werkschau – wie auch bei diesem Backkatalog. Aber schon eine ausgewogene Mischung, die gleichermaßen neueres als auch klassisches Songmaterial zum Zuge kommen lässt. Und das ist es dann auch geworden – eine Tourplatte, die eben die letzte Rundreise dokumentiert. Sound und Songauswahl passen, Hansi ist noch immer nicht der größe Sänger, Schmalz und Pathos rinnen noch immer phasenweise in Kübeln aus den Boxen. Njo, Blind Guardian halt, könnte man resümieren.
Tracklist:
01. The Ninth Wave
02. Banish From Sanctuary
03. Nightfall
04. Prophecies
05. Tanelorn
06. The Last Candle
07. And Then There Was Silence
08. The Lord Of The Rings
09. Fly
10. Bright Eyes
11. Lost In The Twilight Hall
12. Imaginations From The Other Side
13. Into The Storm
14. Twilight Of The Gods
15. A Past And Future Secret
16. And The Story Ends
17. Sacred Worlds
18. The Bard's Song
19. Valhalla
Besetzung:
Hansi Kürsch – Vocals
André Olbrich – Guitar
Marcus Siepen – Guitar
Frederik Ehmke – Drums
Blind Guardian im Internet:
Blind Guardian Website