Band: Eden's Curse
Titel: Symphony of Sin
Label: AFM Records
VÖ: 2013
Genre: Melodic Heavy/Power Metal/Hard Rock
Bewertung: 4,5/5
Written by: Thorsten Jünemann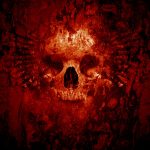 Auf dem 4. Studioalbum "Symphony Of Sin" in der Karriere von EDEN´S CURSE seit 2006, haben gravierende, bzw. auch hörbare Veränderungen stattgefunden.
Namensgeber und Fronter Michael Eden sowie Tastenzauberer Alessandro Del Vecchio sind nicht mehr auf Kurs. Aber nichts klingt dadurch schlechter, weder am Gesang noch an den Keyboardeinsätzen und Passagen werden Mängel ausgemacht.
Ich kann auch textlich oder songwriterisch überhaupt nichts erkennen, bzw. hören, was mich zu Kritiken auf höchstem Niveau des Melodic Metals mit ausgiebigen Ausflügen in den hardrockenden AOR Bereich, führen sollte! Mir persönlich fehlt einfach die ganz persönliche Duftmarke der Band!
Exzellentes Songmaterial, aber mir fehlt genau der Song, der dieses Machwerk in dem Sinne "unsterblich" macht! Aber wir sind bei Album Numero 4 und trotz der weit überwiegenden positiven Eindrücke und der berühmten Luft nach oben, wurde alles richtig gemacht und ein Album auf Kurs geschickt, welches nicht nur die eingefleischten Fans der Band überzeugen sollte…
Tracklist:
01. Symphony of Sin 07:35
02. Break the Silence 04:37
03. Evil & Divine 05:00
04. Unbreakable 04:15
05. Fallen from Grace 05:50
06. Losing My Faith 04:50
07. Rock Bottom 05:20
08. Great Unknown 04:39
09. Turn the Page 04:56
10. Sign of the Cross 04:55
11. Wings to Fly 04:59
12. Devil in Disguise 05:30
13. Where Is the Love? 04:46
Besetzung:
Paul Logue (bass & voc)
Pete Newdeck (drums)
Thorsten Köhne (guit & voc)
Steve Williams (keys)
Nikola Mijić (voc)
Internet:
Eden's Curse Website
Eden's Curse @ MySpace
Eden's Curse @ Reverbnation
Eden's Curse @ Twitter