Band: Freedom Call
Titel: Ages Of Light
Label: STEAMHAMMER / SPV
VÖ: 2013
Genre: Power Metal
Bewertung: Ohne Bewertung
Written by: Thorsten Jünemann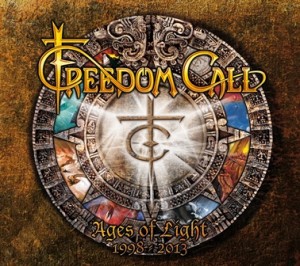 Kinners wie die Zeit vergeht….
Seit 1998 sind FREEDOM CALL inzwischen unterwegs…
In der Zeit 7 Studioalben und 2 Livealben veröffentlicht, den Globus mehrmals umrundet und so ziemlich jedes Festival gespielt was mit Metal zu tun hat, Musiker kamen und gingen….
Und der speedige Power Metal der Band gewann von Album zu Album immer mehr an Klasse.
Nach 15 Jahren nun, wird eine Best Of Scheibe veröffentlicht, auf der alle Hits aller Veröffentlichungen der Band vertreten sind und auf Konzerten lautstark gewünscht und abgefeiert werden. "Auf der mit Masqueraded betitelten Bonus-CD präsentieren Freedom Call sechs Stücke in einem neuen ungewöhnlichen Gewand: ´Metal-Invasion` ist als Metal-Folk-Nummer zu hören, ´Mr. Evil` als Melodic-Reggae, ´Hero On Video` gibt es als Speed-Ska und ´Rockin` Radio` (zu dem es auch einen Videoclip gibt) als Killerbilly-Version. Abgerundet wird Masqueraded mit ´Freedom Call` als so genannte Camp-Fire-Strumming-Ausführung (inklusive Notenblatt/Tabulatur) sowie ´Age Of The Phoenix` als Power-Swing." (Info)
HELLOWEEN wurden von den Fans, anderen Bands, sowie der Presse für ihr Vorgehen zur Jubiläumsscheibe viel gescholten und abgewatscht, da sie es auch wagten, ihre Klassiker mal andersartig zu Ton zu bringen. Ich persönlich fand das Ergebnis fremdklingend, aber sehr gut gelungen.
Jetzt machen FREEDOM CALL dasselbe und ich kann leider nicht sagen, ob es gelungen klingt, denn "Pressefritzen" wie ich, bekommen nur die MP3 Standards…
Wer den Happy Metal von FREEDOM CALL noch nicht kennt, der ist mit dieser Best Of Compilation gut beraten, Die-Hard Fans werden sich das Album wegen der Bonus CD zulegen und somit ist alles schön…
Aber die Meinungen zu den Bonussongs interessieren mich sehr…
Ohne Bewertung!
Es ist ein sehr gut sortiertes Best Of Album, welches man FREEDOM CALL-fremden Menschen empfehlen kann.
Tracklist:
CD 1 "Ages Of Light":
01. We Are One 04:57
02. Tears Falling 05:39
03. Freedom Call 05:33
04. Farewell 04:06
05. Metal Invasion (live) 07:10
06. Warriors 04:20
07. Land Of Light 03:54
08. Hunting High And Low 04:02
09. Mr. Evil 03:43
10. Far Away 03:19
11. Blackened Sun 04:39
12. Thunder God 03:31
13. Tears Of Babylon 03:38
14. A Perfect Day (live) 03:57
15. Hero On Video 03:42
16. Power & Glory 03:25
17. Rockstars 04:57
18. Back Into The Land Of Light 05:11
CD 2 "Masqueraded":
01. Rockin' Radio – Killerbilly Version 03:55
02. Metal Invasion – Metal Folk Version 04:13
03. Mr. Evil – Melodic Reggae Version 04:10
04. Hero on Video – Speed Ska Version 03:48
05. Age of the Phoenix – Power Swing Version 04:25
06. Freedom Call – Camp fire Strumming Version 03:37
Besetzung:
Chris Bay (voc & guit)
Lars Rettkowitz (guit)
Ilker Ersin (bass)
Ramy Ali (drums)
Internet:
Freedom Call Website
Freedom Call @ MySpace