Band: Jeff Brown
Titel: 23 Years
Label: Mausoleum Records
VÖ: 13. November 2015
Genre: Classic Melodic Hard Rock
Bewertung: 4,5/5
Written by: Lazer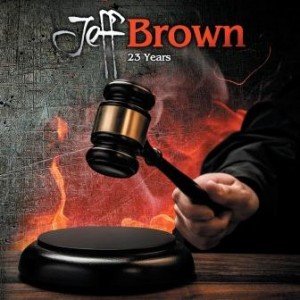 Wieder beehrt uns ein regelrechtes "All-Star-Ensemble" diverser alteingesessener, jahrelang erfolgreicher Bands. Dieses Mal treffen sich einige Musiker aus Gruppen wie Warlock, U.D.O., John Miles, The Sweet, The McAuley Schenker Group oder Lionheart, um Jeff Browns (Cats In Space, The Tremeloes, ex-Wildfire,…) erstes Soloalbum "23 Years" aufzunehmen.
Eine ahnsehnliche Combo hat sich eingefunden um eine Classic Melodic Hard Rock-Platte auf die Beine zu stellen, die sich durchaus hören lassen kann. Sehr angelehnt an die Größen der 1970er/-80er wie Whitesnake oder Toto, können die Tracks sofort begeistern.
Zu Beginn könnte man auch gleich sofort letztgenanntere Toto erahnen. Sehr homogen und perfekt aufeinander abgestimmt ziehen sich die Strukturen wie ein roter Faden durch das Album. Der Titelsong aber hinkt dem Ganzen etwas hinterher. Hier hätte man doch etwas bombastischeres oder druckvolleres erwarten können. Nichts desto Trotz zeigt Jeff Brown, dass er nicht umsonst mit einigen der "big ones" (Ian Gillan – Deep Purple, Bernie Marsden – Whitesnake oder John Coghlan – Status Quo) zusammengespielt hat.
Die Truppe lässt uns aber auch hören, dass sie nicht nur die weichgespülteren Kuschelrocksongs oder Balladen drauf haben. "Fallen Angels" zum Beispiel, schlägt schon ordentlich an. Der Song besitzt fein dosierte Power und Durchschlagskraft, besticht aber trotzdem mit feinen und eingehenden Melodien. Mit "When The Love Is Gone" drückt man ganz fest auf die Tränendrüsen, muss und darf auf so einem Album aber gerne auch sein. Auf den knapp 57 Minuten findet sich mit "Slipping Away" auch noch eine Akustiknummer, die feinfühliger nicht sein hätte können. Den grandiosen Schlusspunkt setzt dann ein 10-Minüter in Form von "Life Goes On". Dieser Track kratzt schon knapp an der Tür eines Meisterwerks – coole Melodien und tolles Riffing, die Soli sind eingehend und versetzen den Hörer mit Hilfe der Backing Vocals stets in eine andere Zeit.
Mein Fazit: Ausgesprochen tolles Album für Fans anspruchsvolleren Classic Rocks. Eingehende Melodien werden hier mit punktgenauen Backing Vocals und Keyboards zu einem wahrlichen Hörerlebnis à la 1970/-80 verschmolzen.
Tracklist:
01. Crazy World
02. 23 Years
03. Casino Royale
04. Contagious
05. Fallen Angels
06. Once in Every Lifetime
07. When The Love Is Gone
08. Calling Me, Calling You
09. Stay With Me
10. Slipping Away
11. Life Goes On
Besetzung:
Jeff Brown – Vocals, Backing Vocals, Bass
Niko Arvanitis – Guitars
Peter Szigeti – Guitars
Gary Moberley – Keyboards
Jürgen Reinert – Drums
Steve Mann – Lead Guitar Solo on Slipping Away
Guests:
Ralf Bronchhorst (All Ages) – Acoustic Guitar on Contagious
Joe Gillingham (The Tremeloes, Ian Mitchell) – Backing Vocals on When The Love Is Gone
Muriel Carrez – Spoken Intro And Bridge on Casiono Royale
Peter Brandner (Royal Hunt, Big Fat Snake) – Acoustic Guitar on Whn The Love Is Gone
Internet:
Jeff Brown Website