Band: Konkeror
Titel: The Abysmal Horizons
Label: Lacerated Enemy Records
VÖ: 2014
Genre: Death Metal
Bewertung: 4.5/5
Written by: Lex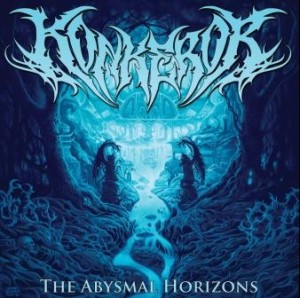 Mit Konkeror wächst ein prächtiges Death Metal – Biest in der Sphäre der gewaltigen Polen Behemoth heran, das uns mit The Abysmal Horizons seinen unheiligen Debuthaufen vor die Füße legt. Wie oft wird im Death Metal- Bereich brutal herumgerifft um des brutalen Herumriffens willen? Und von den Songs bleibt nichts hängen, weil eigentlich nur Brutal Writing aber kein Songwriting getrieben wird?
Die ewige zweite Garnitur spielt einfach nur Death Metal. Die erste Liga spielt nicht nur Death Metal, sie schreibt dabei auch Songs. Konkeror gehört unbedingt in die erste Liga. Sie bauen eine schwer-dunkle Gewitterwolke von einer Soundwand auf und verstehen es, daraus gezielte Blitze auf das von Schrecken gebeutelte Volk herunter zu züngeln. Das alles geschieht mit Rücksicht auf die unheilvolle Struktur der unheiligen Songstrukturen.Jeff Beauchamp setzt mit seinen gekonnten, bösartigen Phrasierungen das Tüpfelchen an Wiedererkennungswert auf die knallenden Panzergeschosse.
Das Einzige, was man Konkeror vorwerfen könnte, ist dass man den Amis die finstermetallischen Vorbilder jederzeit anhört. Aber die eigene Identität dürfte mit den hoffentlich bald folgenden Alben dieses Kalibers noch prächtig Fleisch ansetzen.
Für mich eine äußerst positive Überraschung im Death Metal – Newcomer – Bereich, die ich unbedingt anzuhören empfehle.
Tracklist:
01 I, Monolithic
02 Towers
03 Incantations
04 Beyond The Abysmal Horizons
05 Creator-Destroyer
06 Usurpers Of The Primal Womb
07 The Pillars Of Creation
08 …And The Cosms Flow Eternal
09 Cenotaph (Bonus Track)
Besetzung:
Eric Zwicker – Guitar
Jake Plater – Guitar
Jeff Beauchamp – Vocals / Bass
Tobias Dennis – Drums
Internet:
Konkeror Website