Mist of Misery – Fields of Isolation
Band: Mist of Misery
Titel: Fields of Isolation
Label: Black Lion Records/Talheim Records
VÖ: 2017
Genre: Symphonic Black Metal/DSBM
Bewertung: 4/5
Written by: Ronja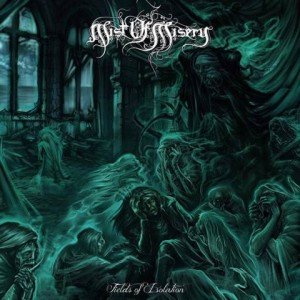 Die Depressive/Symphonic Black Metal Band aus Schweden wurde 2010 in Schweden gegründet und bringt nun ihr drittes Werk auf den Markt.
Wenn man von einer Black Metal underground Band aus Skandinavien liest, hat man eigentlich immer schon ein Bild im Kopf – Auf Kasetten gespielter, schlecht produzierter depressiv, düsterer Black Metal. Nicht so bei Mist of Misery, sie halten sich nicht an die "Regeln" des stumpfsinnigen klassischen Black Metal´s. Die orchestralen Parts und die "lieblichen" Teile vom Klavier und den Chören harmonieren perfekt zum Growlen und Screamen des Fronters Mortuz-Denatus. Hin und wieder werden die Sounds aber doch etwas kitschig, sodass die tiefe Stimme schon fast deplaziert wirkt, was wohl so manchem "gewöhnlichen Black Metaller" die Nackenhaare aufstellen lassen könnte. 😉
Jedenfalls ist für jeden etwas dabei. Egal ob tiefe Stimmen, riffige Gitarren, Drums die reinhauen, oder melancholische und melodiöse Keyboards und Chöre, mit "Fields of Isolation" bieten "Mist of Misery" eine Mischung, die so noch nicht bekannt ist.
Fazit: Man sollte in diese Musik ohne Vorurteile reinhören um sich ganz darauf einzulassen. Experimentierfreudige Metalfans werden bestimmt den ein oder anderen Lieblingstrack auf "Fields of Isolation" finden. Underground Black Metal muss nicht immer schlecht produziert und depressiv-düster sein!
Tracklist:
01. Fields of Isolation (featuring Paolo Bruno Thy Light)
02. Across Empty Pastures
03. Hymm To Silence
04. A Drift in Cosmic Vacuum view
05. Tortured by Solitude (Coldworld Cover)
06. Shackles Of Life Part 2
07. Crystal Vapour Eclipse
08. Bottomless Grievous Caverns
Besetzung:
Mortuz-Denatus (voc, keys, programming)
Phlegathon (guit)
Livsnekaren (drums)
Damian (bass)
Internet: