Band: Omnium Gatherum
Titel: New World Shadows
Label: Lifeforce Records
VÖ: 2011
Genre: Melodic Death Metal
Bewertung: 3,5/5
Written by: Chris Egger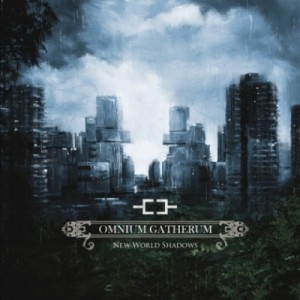 Omnium Gatherum bringen mit New World Shadows pünktlich zum 15-jährigen Bandjubiläum Album Nummer 5 über Lifeforce Records auf den Markt.
Los legen die Jungs gleich mit einem aus der Richtung Swallow The Sun stammenden 9 Minütigen Stück, welches sich zwar durch interessante Melodien und eine instrumental gute Leistung durchaus positiv auswirkt, durch den gewöhnungsbedürftigen Gesang aber klare Minuspunkte bekommt. Dies setzt sich nicht nur beim nächsten Stück, Ego, fort, auch die anderen Songs, bei denen kein cleaner Gesang zum Einsatz kommt (also alle außer New World Shadows , Deep Cold und auch Soul Sourways) können vom Gesang her überhaupt nicht punkten. Instrumental und vom Songwriting her muss man aber das Gegenteil behaupten. Die Mischung aus Doom Death und Melodic Death mit leichten Core und auch Prog Elementen macht durchaus Spaß. Die Melodien sind gut gelungen, die cleanen Vocals überzeugen und auch die Soli passen sehr gut zu den restlichen Songelementen. Sehr stark ist auch das instrumentale Watcher Of The Skies, welches sich in die Richtung Amorphis und Katatonia orientiert.
Fazit: Was bleibt zu sagen? Wenn Omnium Gatherum einen besseren Sänger hätten, wäre durchaus mehr drin. So bleibt nur zu sagen, dass man gute Songs geschaffen hat, die einfach eine bessere Stimme benötigen um wirklich gut zur Geltung zu kommen.
Tracklist:
01. Everfields 09:17
02. Ego 04:07
03. New World Shadows 06:00
04. Soul Journeys 04:54
05. Nova Flame 04:10
06. An Infinite Mind 05:43
07. Watcher of the Skies 04:17
08. The Distance 03:59
09. Deep Cold 09:29
Besetzung:
Jukka Pelkonen (voc)
Markus Vanhala (guit)
Toni Mäki (bass)
Jarmo Pikka (drums)
Aapo Koivisto (keys)
Internet:
Omnium Gatherum Website
Omnium Gatherum @ MySpace