Band: Sewercide
Titel: Severing The Mortal Cord
Label: Infernal Devastation Records
VÖ: 24. Februar 2015
Genre: Death Metal/Thrash Metal
Bewertung: 2,5/5
Written by: Lazer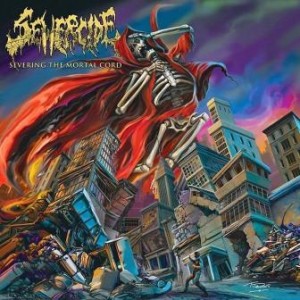 Das neueste Stück von Australiens Death-Thrashern "Sewercide" nennt sich "Severing The Mortal Cord". Die fünf Tracks umfassende Platte der 2011 gegründeten Death/Thrash-Metaller läuft in etwa 18 Minuten und hat einiges zu bieten. Das meiste davon ist aber leider fast gänzlich undefinierbar. Die Tracks sind hammerschnell und rau. Die Riffs haben etwas von Slayer, und sind ziemlich hart und wie gesagt sehr schnell. Der Gesamtsound ist eher mau und blechern und vom "Death" kann man herzlich wenig erkennen. Die Rhythmik passt und die Vocals sind genretechnisch punktgenau. In Punkto Melodie gibts mal keine Bewertung, da diese bis auf ganz ganz wenige Augenblicke eigentlich rein gar nicht vorhanden ist. Durchschlagskräftig oder mit Höhepunkten behaftet ist dieses Teil leider auch nicht.
Mein Fazit: Sehr schneller, harter Trash Metal. Der Sound ist nicht voll genug und die Produktion insgesamt eher spartanisch.
Tracklist:
01. Rituals Of Ceremonial Sickness
02. Shackled By Ignorance
03. Hypothemia
04. Dying Threnodies
05. Exist In Punishment
Besetzung:
Tim Thomson – Vocals
Scott Viney – Drums
Jamie Colic – Guitars
Tom "The Shark" Caldwell – Guitars
Tobi "Alva" Zama – Bass
Internet:
Sewercide Website