Sorcerer – The Crowning Of The Fire King
Band: Sorcerer
Titel: The Crowning Of The Fire King
Label: Metal Blade Records
VÖ: 20.10.2017
Genre: Epic Heavy/Doom Metal
Bewertung: 4/5
Written by: Lex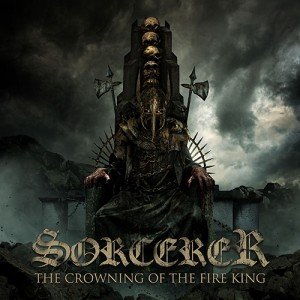 2015 konnten Sorcerer mich mit ihrem Epic Doom schwer begeistern. Candlemass meets Dio war dabei so ein bißchen das Grundrezept, und gleich mehrere wirklich zwingende Songs machten "In The Shadow Of The Inverted Cross" zu einem absoluten Highlight.
"The Crowning Of The Fire King" bleibt diesem Stil true, und sollte – wie schon hier und da zu lessen war – sogar den bärenstarken Vorgänger noch um ein paar Zacken überragen.
Die Erwartungen waren also zugegebenermaßen vielleicht schon etwas zu hoch geworden, bis Metal Blade endlich die ersehnte Promo rausrückte und ich mir selbst ein Bild machen konnte. Jedenfalls blieb bei mir der große Aha-Effekt in Form des einen oder anderen Übersongs leider aus. Songs wie "Dark Tower Of The Sorcerer", "Sumerian Script" oder auch den Titelsong des Vorgängers sucht man anno 2017 leider vergebens.
So bleibt eine nach wie vor gute Epic Doom-Scheibe, die aber aus dem "Shadow Of The Inverted Cross" nicht herauskommt.
Tracklist:
01. Sirens
02. Ship of Doom
03. Abandoned by the Gods
04. The Devil's Incubus
05. Nattvaka
06. Crimson Cross
07. The Crowning of the Fire King
08. Unbearable Sorrow
09. Disciples of the Dark (Bonus Track)
10. Bringer of Misery (Bonus Track)
Besetzung:
Johnny Hagel (Bass)
Anders Engberg (Vocals)
Kristian Niemann (Guitars)
Peter Hallgren (Guitars)
Lars Sköld (Drums)
Internet:
Sorcerer Website