Band: Blackbird
Titel: Of Heroes And Enemies
Label: Pure Rock Records
VÖ: 2014
Genre: Hard Rock, Blues Rock
Bewertung: 5/5
Written by: Thorsten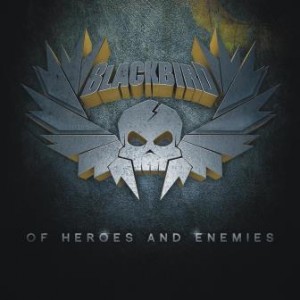 Mit BLACKBIRD aus Deutschland haben wir den hörbaren Beweis, dass dreckiger, bluesgetränkter Mitwipp-Hardrock nicht zwangsläufig nur aus dem Land der Koalas kommen oder die Reise über den großen Teich aus den US of A antreten muss.
Ob AC/DC demnächst oder in absehbarer Zeit abtreten, bleibt abzuwarten und schade wäre es auch, aber es stehen genug Bands an, die es schaffen können, die überdimensionalen Fußspuren zu füllen, wenn man sie lässt…
AIRBOURNE, ´77 und wie sie alle heißen, sind verdammt gut, doch kommen BLACKBIRD gesangstechnisch näher an die australischen Vorbilder ran…ohne dabei wie Klone zu klingen.
Ob nun gedrosselt stampfend oder straight nach vorn rockend, versprühen BLACKBIRD eine Art Spirit, der mir bei AC/DC schon vor langer Zeit abgegangen ist.
Vielleicht liegt es daran, dass ich es zum kotzen finde, wenn eine Band nur noch durch Stadien tingeln kann und keine Möglichkeit mehr hat, Clubs zum Schwitzen zu bringen, noch bevor die erste Note ertönt, obwohl die Musik eigentlich auf Clubs ausgelegt war!
Nein, ich verdamme AC/DC auf keinen Fall, aber letztendlich bin ich froh dass es engagierte Bands wie BLACKBIRD gibt, die nur darauf warten, dass die "Alten" endlich in Rente gehen um auch ihre berechtigte Chance zu bekommen!
Denn die Chance haben sich die Jungs mit ihrem Album "Of Heroes And Enemies" aus Rheinland-Pfalz wahrlich verdient!
Es ist garantiert noch Luft nach oben, aber die gewagte Frische im Hard Rock ohne nach Vorbildkopien zu klingen sollte erkannt und unterstützt werden, damit nicht irgendwann eine Lücke entsteht die durch schlechte Kopien (bestes Beispiel BÖHSE ONKELZ) versucht wird, auszufüllen.
Der volle 5er!!!
Tracklist:
01. Fire Your Guns
02. Not About You
03. Hero
04. Dusk Till Dawn
05. Of Heroes And Enemies
06. Ride With The Rockers
07. Deuce
08. Don't Fool Me
09. Devil's Soul
10. Right To Rock
Besetzung:
Angus Dersim (voc & guit)
Bora Karakus (guit)
Fritzi Delli (bass)
Daniel Keller (drums)
Internet: