Band: Crucifliction
Titel: Heresy Is Met With Fire
Label: Selfreleased
VÖ: 2013
Genre: Speed/Thrash Metal
Bewertung: 4,5/5
Written by: Robert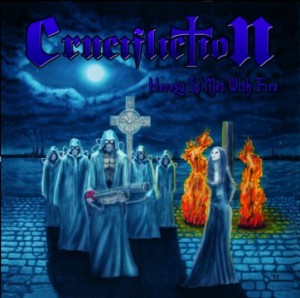 Crucifliction aus Kanada wurden bereits 2008 gegründet, kommen aber erst jetzt mit ihrem Debüt "Heresy Is Met With Fire" über den Teich. Speed/Thrash Metal wird hier von den aus Vancouver stammenden Burschen angemerkt. Haben wir es hier etwas mit den Söhnen von Annihilator zu tun? Ja und nein würde ich sagen, denn gewisse Attitüden sind wohl von Jeff Waters und Konsorten dabei, dennoch bauen die Jungs auf einen weitaus progressiveren Sound, und dieser mündet auch an und ab in etwas moderneren Gefilden. Das Thrash / Groove Metal Outfit das man sich hier gezaubert hat geizt nicht mit eigenen Innovationen und auch die Umsetzung klingt äußerst unterhaltsam, sowie breit gefächert. Dies heißt, das die Jungs hier nicht einen auf Schlicht machen, es aber auch was den technischen Standpunkt betrifft es nicht übertreiben. Kraftvoll und auch an und ab etwas verbissener werden stimmige Bretteriffs für die Jagd angestimmt und diese münden immer wieder im melodischen, klaren Bereich. Kunterbunt zwar aber sehr gelungen vermischt zelebriert man ein Programm das zu begeistern weiß. Einige Klischees aus den 80ern mögen zwar vorhanden sein und da ruft man einem Malice, wie auch Vicous Rumors ins Gedächtnis, doch die Old School Partitionen werden hier nicht vollends ausgereizt. Vielmehr darf man sich von einer guten Melange aus Metal Sachen aus den 80ern, 90ern, sowie auch neueren Datums sich verwöhnen lassen. Knackige Banger-Elemente, wie auch feinfühlige Melodiepartitionen werden am laufenden Band vorgetragen und das bietet für eine breite Masse an Power, Speed und Thrash Metal Verehrern sehr viel. Die Fusion der Instrumentalisten, sowie des Fronters sind gelungen und dem setzt eben Letztgenannter noch das Sahnehäubchen auf, mit seiner Reibeisenstimme. Solche Sänger braucht es eben und mit seinem Wiedererkennungswert verhilft er der Truppe sicherlich zum Ruhm. Breit gefächert und mit spitzfindigen Harken zwischen satten Bulldozer Riffs, amtlichen Thrash Abrissbirnen der Marke Megadeth, sowie technischen Speed Linien im Fährwasser von Annihilator spielt man sich durchs Programm. All diese Einflüsse und Einsätze lassen eben vermuten, dass es der Truppe an Originalität mangelt, keinesfalls, denn die Umsetzung spricht für sich. Erfrischend und mit viel Pfiff wird hier die Keule bis zum Umfallen geschwungen und das steckt ordentlich an einerseits, verleiht einem auch andererseits beim Hören einen großen Gänsehautfaktor vor Begeisterung.
Fazit: Die Kanadier haben es geschafft, denn dieser Rundling ist wirklich eine tolle Mischung im Bereich des Power, Speed und Thrash Metal. Technisch, wie auch im soliden Bereich werden alle Register gezogen. Alle Daumen hoch für die Leistung der Kanadier.
Tracklist:
01. Iraqistan 04:42
02. Procession of the Damned 04:21
03. Human Target 04:27
04. Malice 04:09
05. Shreds of Existence 02:40
06. Til Death 07:11
07. Contaminated 03:15
08. Epidemic 04:19
09. Soulless 05:36
10. Delusions of Excess 04:13
11. The Dystopian Arsenal 09:02
12. Crucifliction 04:12
Besetzung:
Calvin Ma (bass & voc)
Chris Robertson (voc & guit)
Alex Nacci (drums)
Chris Sheehan (guit)
Inernet: