Elvenking – Secrets of the Magick Grimoire
Band: Elvenking
Titel: Secrets of the Magick Grimoire
Label: AFM Records
VÖ: 10.11.17
Genre: Folk/Power Metal
Bewertung: 5/5
Written by: Robert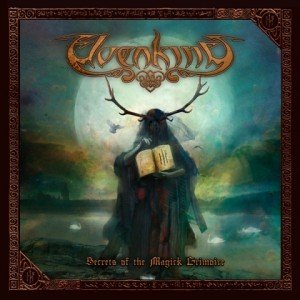 Die italienischen Folk Power Metaller, Elvenking, sind unverwüstlich, wenn es um die Dunkel-Märchen Thematik in ihrem Genrebereich geht. Mit Vehemenz treiben sie ihren persönlichen Sound voran. Im Gegensatz zu anderen, italienischen Kapellen haben die seit 1997 fungierenden Italo-Folk-Power Metaller ihre eigene Note. Man liebäugelt nicht in Richtung anderer Vorreiter, stets war das Konzept der Stunde die Eigenständigkeit. Mit "Secrets of the Magick Grimoire" steht der nächste Rundling an und wer nichts mit der Thematik Drachenjagd, Rettung der Maid in schillernder Rüstung anfangen kann, der wird etliches finden, was demjenigen sauer aufstößt. Für die machen im Gegensatz dazu Elvenking nicht die Mucke. Beweist, dass die Klientel welche den Herrschaften hold sind, eine eingeschworene Gemeinschaft ist.
Vom Standpunkt der Ausgewogenheit darf man den Italienern nichts absprechen, da die Vermischung aus Folk, Power und leichten Symphonic Metal Nuancen gehören sie zu den Großen. Dass man dies Live genauso unter einen Deckmantel bringen kann, davon hat sich meine Wenigkeit bereits überzeugt.
Nach einer durchwegs ähnlichen Sound-Formel kommen die italienischen Waldelfen mit "Secrets of the Magick Grimoire" zurück. Würde nun bedeuten nur eine leichte Weiterbewegung, stimmt allerdings nicht ganz, denn gegenüber dem vor drei Jahren erschienen Album "The Pagan Manifesto" bemerkt man eine durchwegs gesteigerte Ausgewogenheit. Klar, habe es erwähnt, dass die Italiener an sich ein gutes Händchen haben, dennoch muss dies angemerkt werden. Warum? Samt und sonders gesagt klingt man um Ecken prächtiger und die Songs gehen wunderbar ins Gehör. Die Vermischung der Stilelemente ist prächtig und diese Melodiebögen lassen einen geflashed dasitzen.
Die epischen Einlagen sind die kurze Unterwanderung, bevor Elvenking in die Bresche springen und ein Brettergedonner nach dem anderen als Angriffstaktik vorlegen. Tolles Wechselspiel, mit vielen sinnvollen Epic Einlagen. Mit dieser vorliegenden hat man ein Leichtes, viele Vorreiter deutlich blasser aussehen zu lassen.
Die perfekt dazu abgestimmten Gesangslinien von Leader Damna werden von ihm exakt im Ziel platziert und mit einer Leichtigkeit hantelt er sich durch melodische-klare und tiefer gesungene Parts. Die charakteristisch hohen Power Metal-Screams sind dezenter und bewirken keinen schlackernden Tinnitus im Gehör. Die fesselnden, teils fürwahr magischen Vermischungen sorgen für viel Abwechslungsreichtum innerhalb des kompletten Albums. Das ist Folk/Power Metal Hörkino im ausnahmslos großen Stil.
Fazit: Elvenking legen mit "Secrets Of The Magick Grimoire" einen Meisterstreich für den Drachenliebenden und bekämpfenden Folk/Power Metaller vor.
Tracklist:
01. Invoking the Woodland Spirit 06:02
02. Draugen's Maelstrom 04:24
03. The One We Shall Follow 04:25
04. The Horned Ghost and the Sorcerer 04:36
05. A Grain of Truth 05:16
06. The Wolves Will Be Howling Your Name 05:55
07. 3 Ways to Magick 04:35
08. Straight Inside Your Winter 04:43
09. The Voynich Manuscript 06:19
10. Summon the Dawn Light 04:57
11. At the Court of the Wild Hunt 07:40
12. A Cloak of Dusk 02:24
Besetzung:
Damnagoras (voc)
Aydan (guit)
Rafahel (guit)
Jakob (bass)
Lethien (keys & violin)
Symohn (drums)
Internet: