Band: Gotthard
Titel: Bang!
Label: Rough Trade / G Records
VÖ: 2014
Genre: Hard Rock
Bewertung: 5/5
Written by: Thorsten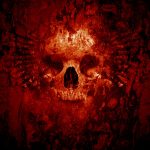 BANG!
GOTTHARD are back!
BANG!
Das 2. Album mit "Neuzugang" Nic Maeder am Mikro!
BANG!
Es rockt!
Theoretisch könnte nun meine Punktzahl erscheinen, doch wäre das ja für ein Review ein bißchen dünn und würde dem Album nicht fair gerecht werden. Obwohl eigentlich alles gesagt ist…
Seit dem tragischen Tod des Sängers Steve Lee und einigen Auditions/Castings steht Nic Maeder am Mikro und macht wirklich einen verdammt guten Job! Ich würde behaupten, wenn er wollte, könnte er dem guten Steve auch noch viel ähnlicher klingen, aber das will doch auch niemand denn er kann mit seiner eigenen Stimme der Band immer noch den Stempel aufdrücken, als ziemlich beste Melodic Hard Rock Band Europas zu agieren. Es geht etwas "rauer" zur Sache.
Nicht wirklich back to the roots, sondern eher moderner ohne dabei die beliebten und auch geforderten GOTTHARD Momente zu vernachlässigen.
Während der Vorgänger "Firebirth" passend als Feuertaufe den "neuen" Sänger (erfolgreich) bekannt machte, kommt es mir heute so vor, dass Mr. Maeder bei "Bang!" mehr ins Songwriting integriert wurde, denn die Songs wirken tatsächlich noch mehr auf seine Stimme zu geschneidert als noch auf "Firebirth".
Für mich steht spätestens jetzt eindeutig fest, dass Sänger Nic fest in der Band gelandet ist und die Fans weltweit ihn auch akzeptiert, ggf. sogar ins Herz geschlossen haben.
Er muss große Fußstapfen füllen, was er aber auch superb bewältigt und der Band sogar einen modernen Touch verpasst, bzw. einhaucht.
Überhaupt traut man sich auf dem Album eine Menge an leichten Experimenten zu, die Schweizer schaffen es sogar französische Chanson-Melodien und Instrumente balladesk einzubetten, Chapeau!
Andererseits erinnert man sogar an LED ZEPPELIN, großartiges Kino fürs Gehör!
Was soll ich noch lange drum rumreden, Fans der Band werden sich auch dieses Album kaufen, niemand wird enttäuscht-eher im Gegenteil würde ich behaupten, man könne mit dem Album sogar seinen Fankreis vergrößern.
Sound (Leo Leoni & Charlie Bauernfeind) knallt amtlich und druckvoll und der musikalische Inhalt bleibt bereits nach dem ersten Durchgang ohne Füller im Gehör hängen.
Die Band schuf neue Klassiker, die sich nahtlos in die Riege der Bandklassiker einfügen, tritt nicht auf der Stelle sondern begeht auch moderne Wege ohne sich und ihren Bandsound zu verleugnen…das sind alles Gründe für die Höchst-Punktezahl und der Blindkauf-Empfehlung!
Tracklist:
01. Bang!
02. Get Up 'N Move
03. Feel What I Feel
04. C'est La Vie
05. Jump The Gun
06. Spread Your Wings
07. I Won't Look Down
08. My Belief
09. Maybe
10. Red On A Sleeve
11. What You Get
12. Mr Ticket Man
13. Thank You
Besetzung:
Marc Lynn (bass)
Nic Maeder (voc)
Leo Leoni (guit)
Freddy Scherer (guit)
Hena Habegger (drums)
Internet: