Band: Human Fortress
Titel: Thieves Of The Night
Label: AFM Records
VÖ: 18.03.16
Genre: Melodic/Power Metal
Bewertung: 5/5
Written by: Totti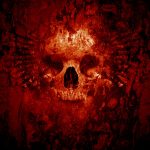 Die Wege des Herren sind unergründlich…
Die Wege in der Karriere eine Rock- und Metalband manchmal auch, bzw. die der betreffenden Musiker…
Bei HUMAN FORTRESS aus Hannover ist das ähnlich. Als Hardrockband 1997 unter dem Namen TIMEZONE gegründet, versuchte man zuerst sein Glück mit einer Sängerin, was aber wohl nicht funktioniert hat. Ein Jahr später entschied man sich für eine Kurskorrektur, Umtaufe der Band und im weiteren Verlauf für diverse Besetzungswechsel.
Die ersten beiden Albumveröffentlichungen gehören in jede gut sortierte Metalsammlung wobei das von der Gefogschaft eher verschmähte 3. Album "Eternal Empire" auch seine Höhepunkte hat, aber stilistisch nicht mehr das war, womit die Band unter dem Namen grandios loslegte.
2013 meldeten sich die Niedersachsen mit neuem Sänger zurück und das Album "Raided Land" klang nach einer Rückbesinnung zu den eigentlichen Stärken der Band (ich erspare mir jegliches Name-Dropping, es waren so einige Musiker bei Human Fortress zu Gange).
Nun, 2016, legt man mit "Thieves Of The Night" eine gelungene Weiterführung der Diskografie los und ich war bereits beim ersten Durchgang Feuer und Flamme für die Musik, dem Songwriting, dem Sound und der Stimme. Bestens in Szene aller Klangfarben gesetzt, wurde das Album von Sebastian Levermann (Orden Ogan, Almanac). Knapp 1 Stunde lang wird zeitloser, melodischer-teils epischer Metal dargeboten, der mich auch nach dem zigsten Durchlauf entzückt.
Abwechslungs- und Facettenreich wurde etwas an Härte zurückgefahren um den Melodien mehr Platz zur Entfaltung zu geben was sich bezahlt gemacht hat, denn es will einfach nicht langweilig vor sich hinplätschern sondern begeistert mit jedem weiteren Durchgang.
Fazit: KAUFEN!
Vielleicht hält die Band ja auch in der Konstellation mal etwas länger zusammen…
Tracklist:
01. Amberstow
02. Last Prayer To The Lord
03. Rise Or Fall
04. Thieves Of The Night
05. Thrice Blessed
06. Hellrider
07. Just A Graze
08. Vicious Circle
09. Smite On The Anvil
10. Dungeons Of Doom
11. Gift Of Prophecy
12. Alone
Besetzung:
Gus Monsanto (voc)
Torsten Wolf (guit)
Volker Trost (guit)
Dirk Liehm (keys)
Andre Hort (bass)
Apostolos Zaios (drums)
Internet:
Human Fortress @ MySpace