Band: Lynch Mob
Titel: Rebel
Label: Frontiers Music SRL
VÖ: 21.08.15
Genre: Hard Rock
Bewertung: 5/5
Written by: Robert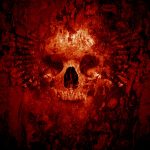 Ah The Murder Of My Sweet, die hatten doch mit "Divanity" ein saustarkes Album in der Hinterhand. Dieser Rundling hat mich durch seine Mischung aus rauen, wie auch groovigen Kraftakten im Symphonic Metal Genre wahrlich begeistern können. Nun steht die Mannschaft mit "Beth Out Of Hell" auf der Matte und legt neuerlich, wie sollte es auch anders sein ein Gemisch aus diesem Genre vor. Oder doch nicht? Nun gut, man hat weiterhin mit der Fronterin eine starke Sängerin an Bord, nur warum die knackigen Vibes vom Vorgänger komplett verschwunden sind, verstehe ich beim besten Willen nicht. Genau diese haben sie ja gegenüber allen anderen hinweg gesetzt. Folglich kommt merklich der Kitschfaktor nach vorne und diese weichgespülten Parts dazwischen haben mich schon beim letzten Issa Album zu einer Fluchorgie verleiten lassen. Verstehe es wirklich nicht, wenn man superb funktionierende Parts und Rhythmen komplett von Bord jagt, aber alles merklich auspoliert, dadurch klingt alles einfach klinisch. Der Bombastsektor ist auch gestiegen, bleibt aber kaum hängen. Auch hier war man schon merklich besser dran, die Ausgewogenheit zu bieten. Somit und folglich in diesem Jahr einfach nur eine Blaupause im Symphonic Genre, welche bereits bei anderen Kollegen das Scheitern hervorgerufen haben. Die Songs plätschern so dahin und wurden einfach für meinen Geschmack zu poppige einberaumt. Dadurch fehlt einfach der richtige Pfiff, wie auch Schliff. Kein einziger Song hat einen ordentlich Punsh und somit beim einen Ohr rein, und beim anderen so schnell es geht wieder raus. Braucht man Anno 2015 wirklich noch einen abgelutschten Within Temptation, Xandria und Konsorten Klon. Diesen reicht man beim besten Willen das Wasser. Hätte man wirklich besser getan die Linien weiter auszubauen, mit dem man eben bei "Divanity" schon sehr stark überzeugen konnte. Was bleibt? Ein zu arg verkitschtes Symphonic Rock Album, welches einfach mit vielen poppigen Elementen und 08/15 Symphonic Elementen ausgestattet wurde.
Fazit: Hoffe hier wahrlich auf eine Kehrtwendung, denn mit diesem Album hat man wirklich etliche Gänge und Schritte zurück geschalten.
Tracklist:
01. Automatic Fix
02. Between the Truth and a Lie
03. Testify
04. Sanctuary
05. Pine Tree Avenue
06. Jelly Roll
07. Dirty Money
08. The Hollow Queen
09. The Ledge
10. Kingdom of Slaves
11. War
Besetzung:
George Lynch (guit)
Oni Logan (voc)
Jeff Pilson (bass)
Brian Tichy (drums)
Internet: