Band: MADDER MORTEM 
Titel: Red In Tooth And Claw
Label: Dark Essence Records
VÖ: 28.10.16
Genre: Progressive Metal
Bewertung: 4/5
Written by: Robert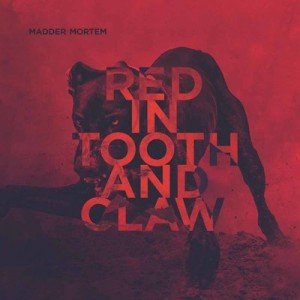 Die aus Oslo stammende Progressive Formation Madder Mortem frönen ihrem heißgeliebten Genre bereits seit 1997, obwohl man zuvor unter dem Namen Mystery Tribe von 1993 bis zum genannten Gründungsjahr tätig war. Somit eine durchwegs sehr altgediente Truppe, bei welcher es aber zum vollendeten Weltruhm nicht gereicht hat. Ein weiteres Detail, die norwegische Formation ist ausnehmend spärlich was den Release von Scheiben betrifft. Es verwundert auch nicht, dass man sich bis zum neusten Release sieben Jahre Zeit gelassen hat. "Red In Tooth And Claw" nennt sich der neueste Output der Norweger und man darf sich sicher sein, dass man erneut auf die Produktionsmaßstäbe achtet, mit denen man bis dato immer ins Rennen gegangen ist. Die Progressive Combo ist ja dafür bekannt, dass sie genau auf Produktion und Vielfalt leidenschaftlich viel Acht geben. Könnte nach Überproduktion klingen, passte allerdings bis jetzt beharrlich und die stimmigen Vibes des Progressive Bereichs konnten sich so außerordentlich gut entfalten.
Agnete M. Kirkevaag mit ihrer Stimme sprängt alle Ketten. Die Fronterin könnte bei einer Vielzahl von Metalbands mitwirken. Warum? Nun sie offeriert einen leidenschaftlich facettenreichen Gesang und selbiger wertet toll das Klangbild auf. Stilistisch gibt man sich eher modernen Akzenten hin, was demnach gut rüber kommt. Das dabei außerdem ein enormes Erscheinungsbild des skandinavischen Metals zum Vorschein kommt, steht außer Frage. Man hört sofort raus, von wo man herkommt. Reichhaltig serviert man ein gutes Potpourri des Genres. Viele Groove lastige Linien bieten den kernigen Anteil, gleichwohl daneben vor satten Melodien schreckt man nicht zurück. Gleichberechtigt und durchwegs ausgeglichen bohrt man sich bis tief in die Gehörgänge.
Der gewählte, kreative Freiraum dieser Mannschaft ist wahrlich toll anzuhören. Man biedert sich nicht an, nein man baut auf die eigene Erfahrung. Dadurch ist viel innovative Eigenkraft des Progressive Metal's entstanden. Ein weiteres nicht von der Hand zu weißendes Detail, ist die Tatsache, dass man es nicht unversucht lässt, längere Headbanger artige Parts ins Geschehen einzubauen.
Dies prallen auf eine Vielzahl von schmucken Wechseln, wie ebenfalls leicht Gothic, wie ferner Modern Metal lastige Nuancen. "If I Could", wäre hier wohl eine durchwegs aussagekräftige Visitenkarte.
Fazit: Allesamt gut gesetzte Linien, die zu einem ausgezeichnet stimmigen Progressive Gemisch geführt haben. Ihre langjährige Erfahrung konnten die Norweger erneut trickreich ausspielen. Zeitlosigkeit steht hier im Vordergrund und nach etlichen Durchläufen kann und wird man sich diesem Reigen nicht entziehen.
Tracklist:
01. Blood on the Sand 05:22
02. If I Could 05:16
03. Fallow Season 04:12
04. Pitfalls 05:20
05. All the Giants Are Dead 05:11
06. Returning to the End of the World 05:56
07. Parasites 03:12
08. Stones for Eyes 04:23
09. The Whole Where Your Heart Belongs 04:31
10. Underdogs 07:31
Besetzung:
Agnete M. Kirkevaag (voc)
BP. M. Kirkevaag (guit & voc)
Richard Wikstrand (guit)
Tormod L. Moseng (bass)
Mads Solås (drums)
Internet: