Band: Manifest
Titel: …and for This We Should Be Damned?
Label: ViciSolum Productions
VÖ: 2015
Genre: Groove Metal
Bewertung: 2/5
Written by: Robert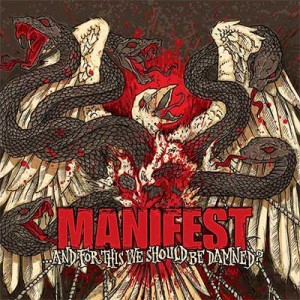 Trondheim ist ja eigentlich eher eine Pilgerstätte für die Black Metaller. Manifest aus dieser Stadt agieren aber in einem völlig anderen Genregewässer. Sie bezeichnen ihre Art der Musik als Melange des Groove Metal. Bis dato habe ich von der Band und obwohl es sich bei "…and for This We Should Be Damned?" schon um das vierte Album handelt, noch nie etwas gehört. Wie auch immer, man muss die Vorgeschichte der Band nicht wirklich kennen, um ins neue Album zu finden. Ihre Art des Groove ist äußerst schlicht und man baut sehr oft auf eine Abwanderung in den Doom Metal Bereich. Auch bei der Produktion hat man sehr eingespart und so klingt das Ganze sehr unausgegoren. Die Reise durch die Gefilde von wilden Attacken und durchaus sehr stimmigen Doom Partitionen ist nicht schlecht, aber noch lange nicht gut. Vor allem die wilden Ausbrecher haben etwas von Geistesgestörtheit. Vielleicht verstehe ich das nicht, muss aber ehrlich sagen, ich will es auch nicht verstehen. Es mag schon sein, dass im Bereich des Groove Metal viele Bands ähnlich agieren, aber diese haben eine weitaus leichter aufnehmbare Klangkunst im Repertoire. Ich streite es nicht ab, dass die Norweger durchaus gute Ideen hätten, aber die derzeitige Umsetzung ist einfach zu mangelhaft. Für das vierte Album darf man da doch viel mehr erwarten, als diese schlichte Umsetzung mit wilden Wechseln.
Fazit: Groove Metal in allen Ehren, die Umsetzung der Norweger ist mir persönlich zu harsch und zu keinem Zeitpunkt nachvollziehbar.
Tracklist:
01. Seven Doors Won't Do 06:08
02. Stretched & Strung 02:35
03. Violently Engaged 03:55
04. Sancta Vénere 03:25
05. The Cadaver on Your Mental Doorstep 06:49
06. Justified Means 01:52
07. Immune 02:57
08. Burning Brimstones 03:46
09. Sincerely 03:03
10. Olympia Cathrin 08:27
Besetzung:
Ole Marius Larmerud (guit)
Alessandro Elide (drums)
John Helge Wangberg (bass)
Stian Leknes (voc)
Internet: