Band: Rated X
Titel: Rated X
Label: Frontiers Records
Genre: Hard Rock
Bewertung: 3/5
VÖ: 2014
Written by: Daniel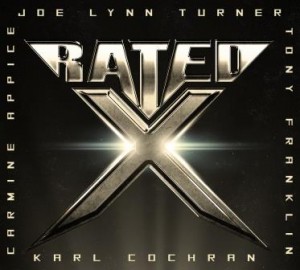 Krankheiten und Seuchen sind in der Geschichte der Menschheit genauso ein Übel wie das Streben nach Gewinn, welches unsere Geschichte auch schon immer prägte. Nicht weiter schlimm und auch erträglich, wenn man sich ein wenig Ablenkung sucht. Ich zum Beispiel höre dann gerne gute, handgemachte Musik. Das sich die geadelten Musiker davon kein trocken Brot leisten können obwohl ich von meinen paar Piepen die Musik bei gefallen auch regulär kaufe, ist mir – aufgrund der Tatsache dass ich zu einer Minderheit gehöre – schon bewussst. Das diese kaufwillige Minderheit aber seit geraumer Zeit besonders im Hard Rock Sektor immer mehr zur Kasse für sogenannte Supergroups gebeten wird, verbindet beide Übel der Menschheit grandios.
Nehmen wir doch mal Rated X als Beispiel, eine (ähem) "Band" bestehend aus Joe Lynn Turner (Rainbow, Deep Purple, Yngwie Malmsteen), Karl Cochran (Ace Frehley), Tony Franklin (The Firm, Blue Murder, Whitesnake) und Carmine Appice (Vanilla Fudge, Rod Stewart, Ozzy Osbourne, Blue Murder). Zusammengecastet wurde die Boygroup natürlich vom Label, und die offizielle Maßgabe war es ein Album zu erschaffen, das sich hören lassen kann. Die inoffzielle Maßgabe kann man sich denken wenn man sich das innovative Coverartwork anschaut, welches fantastisch und farbenfroh dem potenziellen Käufer noch einmal klarmacht, wer hier alles mitmischt. Versteht mich nicht falsch, ich gönne einem Label mit zahlreichen starken Veröffentlichungen einen hohen Umsatz und den alten Säcken `ne ordentliche Aufstockung ihrer Rente, aber ein Fan erwartet bei den Mitgliedern deutlich mehr als ein gutes Album!
Kommen wir nach der persönlichen Kotztirade also zum Inhalt von Rated X, und der ist besser als die Verpackung. Die zwölf Songs bieten zwischen Deep Purple, Rainbow, Whitesnake und Led Zeppelin kompositorisch einen Querschnitt durch die Siebziger, allerdings mit der Produktion von heute. Erstaunlicherweise funktioniert das bei den rockenden Songs Peace Of Mind, Get Back My Crown, Devil In Disguise und dem obligatorischen This Is Who I am genauso gut wie bei den getragenen Fire And Ice und Lhasa. Ausfälle wie die (Semi)Schmalzbomben You Are The Music, das halbwegs gelungene aber unspannende Maybe Tonight und Our Love Is Not Over trüben allerdings den Hörgenuss eines ganz guten Genrealbums bei dem die Musiker zwar eine gute Leistung abliefern, welches aber mit Songs gespickt ist die einem irgendwie vertraut vorkommen.
Für einen Newcomer wäre es ein gutes Debüt, für eine Superboygroup ist Rated X einfach nur "buisiness as usual", für den jungen Fan Seventies Hard Rock erstrebenswert, für die Generation der beteiligten Protagonisten allenfalls ein netter Trip in die Jugend.
Rated X – This Is Who I Am (Official / 2014 / JL Turner – C. Appice – T. Franklin – K. Cochran)

Trackliste:
01. Get Back My Crown
02. This Is Who I am
03. Fire And Ice
04. I Don`t Cry No More
05. Lhasa
06. Devil In Disguise
07. You Are The Music
08. Piece Of Mind
09. Maybe Tonight
10. On The Way To Paradise
11. Our Love Is Not Over
12. Stranger In Us All
Besetzung:
Joe Lynn Turner (vocals)
Karl Cochran (guitar)
Tony Franklin (bass)
Carmine Appice (drums)
Rated X im Internet: