Band: Neoplasmah
Titel: Auguring the Dusk of a new Era
Label: Selfreleased
Genre: Death Metal/Black Metal
VÖ: 22. November 2014
Bewertung: 4/5
Written by: Mayhemer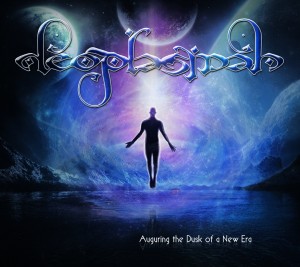 Neoplasmah. Schon mal von dieser Band gehört? Wenn nicht, dann solltet ihr dies schnell ändern, denn diese Band hat es drauf.  Mit "Auguring the Dusk of a new Era" haben Neoplasmah ein mehr als amtliches Death/Black Metal Album abgeliefert.. Die Band rund um die Frontfrau Sofia Silva, die es zu jeder Zeit mit den Großen ( Marloes von Izegrim lässt grüßen) ihrer Zunft aufnehmen kann, veröffentlicht erst ihr zweites Full-Length Album. Ersteres wurde im Jahr 2004! veröffentlicht.  Somit könnt ihr nicht nur ein Ohr riskieren, sondern auch euer gutes Geld;  im Schnitt so alle 7- 10 Jahre, die  im Jahr 1999 veröffentlichten Demos miteingerechnet.
Musikalisch hat die Band einen eindeutigen Sprung nach vorne gemacht, ist technisch versierter und im Songwriting viel ausgereifter. Die Band klingt überhaupt reifer und erwachsener, aber trotz allem sind die Songs hart und hinterlassen keine Gefangenen. Textlich hat sich nichts verändert. Neoplasmah schreien noch immer über außerirdische Themen, was sie von den meisten ihrer Kollegen unterscheidet. Diese Band muss sich nicht  verstecken. Find ich geil!.
Ich kann nur sagen, dass es sich hier um eine Band handelt, die sich in keiner Weise verstecken muss. Neoplasmah hat mehr Aufmerksamkeit verdient als bisher. Kaufen! Rock on
Tracklist:
01. Auguring the Dusk of a New Era
02. Ravishing Theatre of Chaos
03. Realm of the Lost Souls
04. Ruins of a Sham Empire
05. Stargate to Infinity
06. Storm Vortices of Neoplasmah
07. Miry Gateway of Time
08. Absorbed in Perpetual Torture
Besetzung:
Sofia Silva – Vocals
Vitor Mendes – Lead Guitars
José Marreiros – Guitars and Backing Vocals
Rolando Barros – Drums
Alexandre Ribeiro – Bass Guitars
Internet: