Band: The Agonist
Titel: Five
Label: Napalm Records
VÖ: 30.09.2016
Genre: Melodic Death Metal
Bewertung: 2/5
Written by: Steppenwolf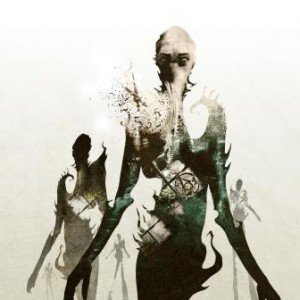 Nachdem Weggang von der heißen Frontsau "Alyssa White-Gluz" war klar, dass dies ein nicht leicht zu stopfendes Loch für die Band hinterlassen wird. Um wem geht es den eigentlich? Klar um "The Agonist". Vorweg muss ich beichten, dass mir die Band nie untergekommen ist. Erst durch den Ausstieg des oben genannten Schlumpfs, ist mir der Name dieser Band mal zugetragen worden. Doch war dies kein Anlass um sich mit der Truppe näher zu beschäftigen. Daher habe ich jetzt das Vergnügen, so objektiv wie es nur geht, in das zweite Album seit dem Weggang von "Alyssa" reinzuhören und es zu bewerten.
Als Ersatz wurde im Jahre 2014 "Vicky Psarakis" gefunden und eingestellt. Auch sie verknüpft Growls mit klarem Gesang. Mit "The Moment" steigt man ziemlich schwach in das Album ein. Einfach zu langweilig. Zwar hat "The Chain" gleich mehr Power, dennoch kann mich "Vicky" mit ihren Growls nicht überzeugen und schon gar nicht mit ihrem Gesang. Der Funke will einfach nicht überspringen. Wenn schon der Gesang nicht passt, dann kann man sich zumindest auf die Instrumente konzentrieren. Die können glücklicherweise überzeugen. Hier leisten die beiden Gitarristen eine solide Arbeit. Schnelle Riffs und Gitarrenläufe bringen Freude auf. Im Melodic-Death-Metal Bereich sind hier "The Chain", "The Resurrection" und "The Villain" zu nennen. Mehr im rockigem Soundgewand, findet man bei "The Game" oder "The Trial".
Ein völliges Ei setzt die Band dann mit dem ruhigen Song "The Raven Eyes". Meiner Meinung passt der Song hier gar nicht auf das Album. Vor allem merkt man hier noch mehr wie schlecht der Gesang eigentlich ist. Grauenhaft. Genauso fehl am Platz wirkt das Cover "Take me to the Church" von "Hozier". Zum Glück befindet sich dieser Alptraum nur auf der Bonus-Edition.
"The Agonist" konnte mich mit dem Album leider nicht überzeugen. Zwar befindet sich viel gutes Material auf der Langrille, jedoch kann ich mit den Growls und dem Gesang nichts anfangen. Schade aber die Band wird weiterhin nicht unter meinem Radar aufscheinen.
Tracklist:
01. The Moment
02. The Chain
03. The Anchor and the Sail
04. The Game
05. The Ocean
06. The Hunt
07. The Raven Eyes
08. The Wake
09. The Resurrection
10. The Villain
11. The Pursuit of Emptiness
12. The Man Who Fell to Earth
13. The Trial
14. Take Me to Church [Bonus Track]
Besetzung:
Vicky Psarakis (voc)
Danny Marino (guit)
Pascal "Paco" Jobin (guit)
Chris Kells (bass)
Simon McKay (drums)
Internet: