Band: THE SHANKS
Titel: Prisons Of Ecstasy
Label: Here to Everywhere Records/Broken Silence
VÖ: 28.10.16
Genre: Rock/Grunge/Punk
Bewertung: 4/5
Written by: Robert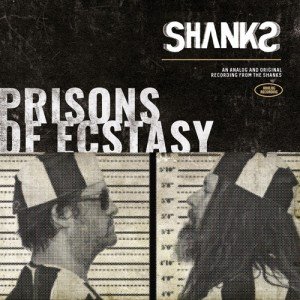 THE SHANKS aus Kanada frönen eine Mischung aus Grunge und Punk. Klingt aber nicht unbedingt jetzt nach den 90ern. Eher orientieren sich die Jungs an 70er Prägungen. Dadurch kommen viele Ingredienzien die damals von massentauglichen Formationen verwendet wurden. "Prisons Of Ecstasy" nennt sich das neueste Werk der Formation. Man ist wahrlich bestrebt einen eigenen Soundweg zu gehen. Das macht man außerdem und somit kommen die Vibes zwar eher Metal untypisch, dafür wirklich innig-peppig und eigenständig aus den Boxen.
Man versieht das ganze Konzept mit leidenschaftlich starken Elementen der Verzerrung, eben wie es im Bereich vieler 70er Bands bzw. den heutzutage orientierten Bands der Fall ist. Hat sicherlich einen leichten psychedelischen Touch, kommt gleichwohl im erneut dargebotenen Fall eher eingängig ins Gehör. Klingt gewiss einigermaßen durchdachter, demgegenüber donnern die Jungs sehr dreckig und kernig dahin. Gute Wechselthematik ist auch seitens des Sounds an sich oberstes Gebot. Vor allem zwischen schroff, einer guten Portion Groove, nichtsdestoweniger
ebenso vor klaren Momenten mach man nicht halt. Gut zusammengemischt, hat man ein enormes Wechselspiel geschaffen.
Man könnte aufgrund der musikalischen Ausrichtung von altbacken sprechen, tut es abermals im Falle von The Shanks nicht. Eben weil man sich mit einem außerordentlich guten Konzept vorstellt. Die Songs klingen frisch, gehen gut ins Gehör und haben an und ab sogar nahezu was von einer Partymucke. Teils etwas lockerer veranschlagt und dann folgt schon wieder ein deutlich progressiverer Part bzw. dominanter in diesem Bereich veranschlagter Song.
Unterstreicht nicht nur das Können der Formation, nein desgleichen was den Ideenreichtum anbelangt, scheinen die Jungs nicht alles ausgespielt zu haben. Eher im Gegenteil, denke dies ist erst der Anfang. Die Retrokarte wird von vorne bis hinten ausgespielt und finde es im Falle von The Shanks überdies ausnehmend gut. Es passt zu ihnen und ihrem Sound. Nicht altbacken, sondern eine gute, frische Neuauflage einer wohl längst vergessenen Klangwirkung.
Fazit: The Shanks legen hier einen opulenten 70er Schlag vor. Keine Irrungen und Wirrungen, sondern ein fein eingefädeltes Konzept, dass man vor allem 70er Rocksound begeisterten durchwegs empfehlen kann.
Tracklist:
01. Incarceration Man
02. Stir You Crazy
03. BlackJack
04. Crying Without Tears
05. Don't Call The Doctor
06. Do You Fear Me?
07. Can't Keep Me Here
08. Better Off Underground
09. Sweet Forever Hereafter
10. Head For A Hole
11. Bolder
12. Getting Out Of Prison
Besetzung:
Pistolwhip von Shankenstein (voc & bass)
Colonel Crankshaft (drums & voc)
Internet: