Band: Wings Of Destiny
Titel: Kings Of Terror
Label: Power Prog Records
VÖ: 24.06.16
Genre: Power Metal
Bewertung: 4,5/5
Written by: Robert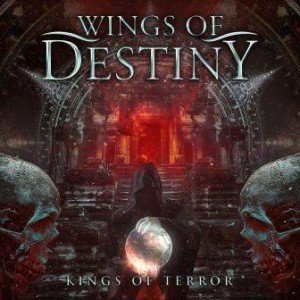 Die aus Costa Rica stammende Power Metal Combo Wings Of Destiny sind keine unbekannten mehr. Zumal man sagen muss, das Land in Lateinamerika ist nicht wirklich bekannt für den Metal. Zumindest bis zu dem Zeitpunkt als die Jungs über den Ozean kamen. Nun steht mit "Kings Of Terror" ein neuer Release der melodischen Power Metal Fraktion ins Haus.
Was zum Start des Albums gleich auffällt man biedert sich abermals nicht an sich hier irgendwo anderen Power Metal Kapellen zu arg anzubiedern. Der Sound erinnert mich etwas an eine melodische Version der Frühwerke von Gamma Ray noch unter den Gesangsbeiträgen von Ralf Scheepers. Rhythmisch sind auch Parallelen zu Grave Digger zu erkennen. Das wäre eigentlich ein Wiederruf zu meiner Benennung, dass die Jungs sich nicht anbiedern oder? Mag stimmen, wenngleich die Parallelen jetzt nicht kopierend sind, sondern nur man an diese Bands etwas erinnert und nicht ihre Blaupausen geklaut hat.
Weiters sind die Jungs aus Costa Rica deutlich symphonischer am Werken. Dieses Potpourri aus eben den Einflüssen der genannten Bands wurde mit einer deutlichen Symphonic Kelle angereichert. Das macht einen sehr frischen Sound aus, welcher jedem Power Metaller nicht nur die Haare frisiert, nein auch das Herz um etliche Schläge höher schlagen lässt.
Rhythmisch wurde ein gutes Konzept ins Boot geholt, welches beim Vorgänger noch nicht so stark ausgefallen ist. Bedeutet, man zeigt sich aggressiver, verbissener, aber auch dunkler. Das hat einen ganz besonderen Touch. Die Roots des Power Metal, melodisch, aber auch symphonisch werden hier als aufkeimender Sturm vorgetragen. Das geht ordentlich unter die Haut und steht für die Machart des hauseigenen Power Metal's von Wings Of Destiny.
Solche Power Metal Kapellen sollte es häufiger geben, denn sie verstehen es, wie man im Genre neue Akzente setzt. Auch stehen die Jungs für mich außer Frage an der Spitze des Styles, auch wenn ältere Kapellen noch immer das Zepter schwingen. Diese Jünger machen ihnen definitiv den Thron streitig.
Fazit: Power Metal mit frischen Antlitz. Dunkel-düster und sehr aggressive einerseits, aber auch einem guten Händchen für Symphonien und Melodien.
Tracklist:
01. We Bring You The Night
02. Angels & Demons
03. Kings Of Terror
04. Eye Of The Storm
05. Sea Of Oblivion
06. Siren's Song
07. Holy Innocence
08. Lie To Me
09. Touch The Sky
10. Eternity
11. United We Stand
12. Angels & Demons (Feat. Fabio Lione)
Besetzung:
Anton Darusso (voc)
Roberto Ulloa (drums)
Alejandro Amador (keys)
Allan "Kalay" Murillo (guit)
Cristian Jiménez (guit)
Edgardo Monge (bass)
Internet: