FRANK CARTER & THE RATTLESNAKES, Demob Happy, Woes 27.03.2018 Strom, München
Bands: Frank Carter & The Rattlesnakes, Demob Happy, Woes Date: 27.03.2018 Venue: Strom, München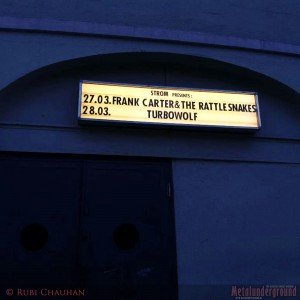 Und wieder ein ausverkauftes Konzert! "Frank Carter & The Rattlesnakes" haben einige ausverkaufte Shows auf ihrer Tour durch Europa gespielt. Wohl verdient – denn wer diese wilde Truppe rundum Carter noch nie live erlebt hat, der verpasst einiges!
Eingestimmt auf den Abend wurde das Publikum von "Woes" – von denen ich wegen eines Interviews leider nichts mitbekam. Kurz darauf legte "Demob Happy", eine aus Brighton stammende Alternative Rock Band, los. Dafür, dass sie die Vorband waren, war das Publikum ziemlich energiegeladen – es wurde teilweise sogar mitgesungen. Zurück in die 60er bzw 70er versetzten "Demob Happy" einen und waren auch sehr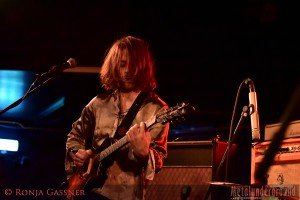 nette Gesprächspartner für das Interview, welches ihr euch hier ansehen könnt.
Pünktlich stand Carter auf der Bühne, mit einem dreckigen Grinser im Gesichter, genießte er das Gejubel um sich herum, startete aber ziemlich zügig mit der ersten Nummer des Abends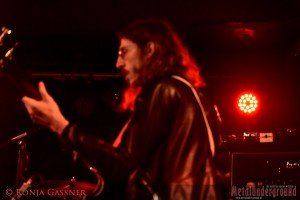 "Trouble". Aufgewärmt war das Publikum ja eh schon, also ließen die ersten Crowdsurfer nicht lange auf sich warten. Jedes einzelne Wort wurde vom Publikum lautstark mitgesungen und Frank machte die komplette Halle zu seiner Bühne und auch die Fans machten seine Bühne zu ihrer eigenen.
Einen Handstand auf dem Publikum, ein wildes Gezappel auf der Bar, er war energie- und emotionsgeladen und nichts konnte ihn oder auch seine Fans stoppen. Noch nie habe ich einen Künstler so sehr mit dem Publikum interagieren gesehen wie Frank, er verspottete sie, belehrte sie und nahm ihnen
gelegentlich die Handys weg um Selfies von sich selbst zu hinterlassen.
Obwohl er gesundheitlich etwas angeschlagen war, sah man es ihm kein bisschen an. Gesanglich klang er fast schon besser als auf der Platte – Respekt dafür! Jeder einzelne Song wurde voller Hingabe und Selbstsicherheit gespielt. Auch etwas Wut war dabei, was bei Frank nicht untypisch ist, denn so gab er den letzten Song des Abends "I Hate You" kraftvoll und aggressiv zu seinem Besten.
Die Zeilen:
And I wish you would die
It makes me violently angry when I see you alive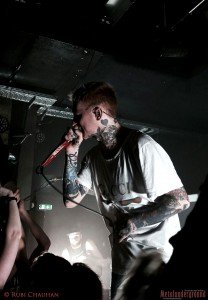 You're a fucking mistake, you're an embarrassment mate
You think you're funny and you're clever but you're just a disgrace
widmete er an all die Konzertbesucher, die dem Terrorismus zum Opfer gefallen sind.
Er hatte das Publikum so sehr im Bann, dass nur ganz selten das ein oder andere Handy zum Vorschein kam, es waren eindeutig weniger Leute mit filmen oder fotografieren beschäftigt, die meisten genossen einfach die Musik – genau so sollte es sein!
Frank Carter ist ein echter Entertainer und jeder der ihn & The Rattlesnakes noch nie live gesehen hat – auf was wartet ihr?
Ich würde bei diesem Konzert sogar behaupten es war eines DER besten Konzerte die ich jemals besucht habe!
Setlist:
01. Trouble
02. Fangs
03. Juggernaut
04. Vampires
05. Wild Flowers
06. Spray Paint Love
07. Acid Veins
08. Loss (Part2)
09. God Is My Friend
10. Paradise
11. Snake Eyes
12. Lullaby
13. Devil Inside Me
14. I Hate You