Bands: Primal Fear, Brainstorm, Striker Date: 13.02.16. Venue: LA, Cham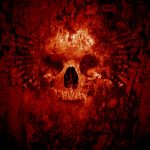 Nach dem eher schlecht besuchten Konzert am 5.Februar, wagte ich einen erneuten Versuch eine deutsche Metallegende live zu erleben in Cham eine Woche später.
Am 13. Februar holte das L.A. Cham ein Package an Bord, das ältere und auch jüngere Metalherzen höher schlugen ließ.
Primal Fear mit den Supportacts Brainstorm und Striker.
Bereits vor Konzertbeginn war sowohl das Restaurant als auch die Konzerthalle schon sehr gut besucht. Das L.A. trumpft wie immer mit einer einzigartigen Location auf.
Hierbei profitierten die kanadischen Striker schon von Beginn an und lieferten ein Programm, wie es sich den gesamten Abend fortlaufen sollte.
Die Fans waren bestens gelaunt, die Musiker noch besser!
Diese Supportband brachte die Stimmung zusammen, die letzten Freitag bei den Vorbands von Exumer schmerzlich vermisst wurde. Die begeisterte Menge in Cham dankte es der Band.
Es folgten Brainstorm, die mit ihrem neuen Album und dem Bühnenbild dazu loslegten.
Deutlich Spaß an der Interaktion mit den Fans hatte die gesamte Band, insbesondere dem Sänger. Stimmung machte vor allem ein gut gelaunter Fan, der ihm ständig dazwischen gröhlte bei seinen Ansagen. Er nahm´s mit Humor und sehr gelassen und präsentierte Brainstorm in Bestform.
Kann man diese Performance von Brainstorm noch toppen, das fragten sich sicherlich viele im Publikum und wurden nicht enttäuscht. Als Alexander Beyrodt, Mat Sinner, Tom Naumann und Ralf Scheepers die Bühne betraten, begann mit ihrem Schlagzeuger Francesco ein regelrechtes Heavy Metal-Gewitter.
Durch sämtliche Alben eine perfekte Auswahl zu treffen ist besonders in so langer Schaffensphase schwierig und dennoch gelang Primal Fear der Spagat, zwischen der Albumpräsentation von Rulebreaker und den altbewährten Alben. Das furiose Konzert begann mit dem Intro und Final Embrace und endete mit dem Highlight von Fighting The Darkness als Zugabe. Die Ballade führte zum letzten Song des Abends mit Running In The Dust. Sprichwörtlich zu Staub zerlegte die Band an diesem Abend Cham.