Band: At the Soundawn
Titel: Shifting
Label: Life Force Records
VÖ: 2010
Genre: Alternative, Post Rock
Bewertung: 2/5
Written by: Chris Egger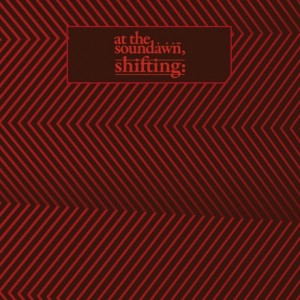 At The Soundown aus Italien sind mir ja bisher nicht bekannt, da lasse ich mich gerne überraschen was das Quintett auf dem zweiten Album mit dem Titel Shifting so bietet.
Teilweise sehr ruhig, teilweise auch etwas aggressiver wird uns ein sehr schwer zu beschreibender Mix geboten. Teilweise spielt man einfachen Hard Rock driftet jedoch dann wieder in den Progressive Rock ab, klingt teilweise nach Porcupine Tree ohne natürlich nur annähernd die Klasse der Engländer zu erreichen. Der Einsatz von Trompeten bringt zwar noch etwas mehr Abwechslung in das Album ohne es letztendlich großartig unter den vielen aktuellen Alben hervorzuheben. Auch wenn man ein paar positive Elemente (vor allem der cleane Gesang von Luca De Stefano kann überzeugen) in den Songs findet muss man doch eingestehen, dass auch durch das künstliche in die Länge ziehen der Stücke doch kein überragendes Album herausgekommen ist. Nach gut 45 Minuten sind die 7 Stücke der Italiener aber auch schon zu Ende und es bleibt nur zu sagen, dass irgendwie alles doch relativ langweilig geworden ist.
Tracklist:
01. Mudra: In Acceptance And Regret
02. 7th Moon
03. Caofedian
04. Drifting Lights
05. Black Waves
06. Hades
07. Prometheus Bring Us The Fire
Besetzung:
Mirco (voc)
Andrea (guit)
Matteo (guit)
Alessio (bass)
Enrico (drums)
Internet:
At the Soundawn Website
At the Soundawn @ MySpace