Band: Atlas Pain
Titel: What The Oak Left
Label: Scarlet Records
VÖ: 10.03.17
Genre: Epic Folk Metal
Bewertung: 2/5
Written by: Jasmin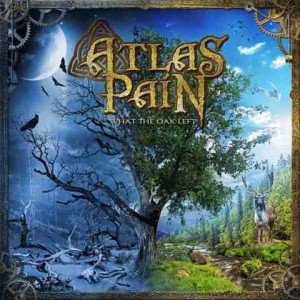 Atlas Pain kommen aus Mailand, Italien, und haben nach dem Demo von 2014 und der EP "Behind The Front Page" von 2015 mit "What The Oak Left" ihr erstes Album veröffentlicht.
Viele Tracks erinnern leider eher an Fahrstuhl-Musik, bereits das Intro "The Time And The Muse" ist geprägt von viel zu viel Keyboardeinsatz und erinnert stark an Equilibrium – dieses Intro geht nahtlos in Song Nummer zwei über – sehr hymnisch und theatralisch – der Chorus leider viel zu überladen und nur mit viel Stirnrunzeln anzuhören, wenn man nicht gerade bekennender Fan von Hammerfall ist.
Die nächsten Stücke wirken vom Grundgerüst her härter und auch der Gesang ist etwas weniger penetrant was meinen Ohren um ein vielfaches besser gefällt.
Mit "The Storm" wird mein positives Bild jedoch gleich wieder zerstört – der Sturm scheint wohl aus Alkohol geboren – zumindest kann ich mir bildlich vorstellen, wie man sich in Kneipen zu diesem Song gröhlend, mit Humpen voll Met zuprostet, bevor man sich die Peinlichkeit mit zu viel von eben diesem Wein wieder aus der Erinnerung trinkt.
Zum Glück wird es ab "Ironforged" wieder etwas härter, das Piano wird für manche Songs sogar gänzlich in eine Ecke verbannt.
Dennoch bleiben die Refrains ziemlich kitschig und Power-Metal-Balladen-peinlich, was ja nicht per se schlecht ist, doch eben leider nicht meinen Geschmack trifft.
Tracklist:
01. The Time and the Muse
02. To the Moon
03. Bloodstained Sun
04. Till the Dawn Comes
05. The Storm
06. Ironforged
07. The Counter Dance
08. Annwn's Gate
09. From the Lighthouse
10. White Overcast Line
Besetzung:
Louie Raphael – Bass
Riccardo Floridia – Drums
Fabrizio Tartarini – Guitar
Samuele Faulisi – Vocals, Guitar, Keyboard
Internet: