Band: Bode Preto
Titel: Mystic Massacre
Label: Iron Tyrant
VÖ: 13.11. 2015
Genre: Black Metal
Bewertung: 4,5/5
Written by: Daniel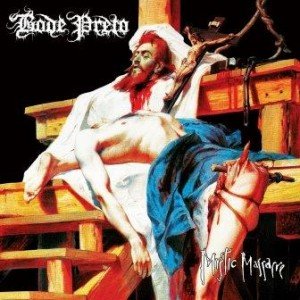 Erst fünf Jahre existiert diese Satansbrut, spätestens seit 2012 darf man sich aber zur "First Class" im Black Metal zählen. Und nun kommt es noch besser:
BODE PRETO aus Brasilien konnten mit ihrem Debüt Inverted Blood schon alles, MYSTIC MASSACRE kann sogar noch ein wenig mehr.
Ein messerscharfes Schlachtfest wie Dark Obsession wäre bei anderen ein Highlight in der gesamten Diskographie, hier erweist es sich ob solch` beeindruckender Metzelorgien wie Maze Of Mirrors,  Absurds Of Violence oder Seizures Of Fear jedoch nur als Randnotiz.
Doch die schwarze Ziege kann nicht nur War Metal – mäßig schlachten, sie kann auch zelebrieren.
Wraith/The Stage And The Meadow, Deep Reality, Mystic Massacre, Parade und Lethargy fügen dem unbarmherzigen Inferno noch norwegische Kälte hinzu, sind wütend, erhaben, mächtig!
Wenn man sich eine Mischung aus Mayhem und Sarcófago auf der einen, Bestial Warlust und Blasphemy auf der anderen Seite in seinem geistigen Ohr abspielt, dann klingt es episch, pechschwarz und gnadenlos.
Es klingt wie MYSTIC MASSACRE!!!
Trackliste:
01. Intro
02. Deep Reality
03. Dark Obsession
04. Maze Of Mirrors
05. Mystic Massacre
06. Dirty Honey
07. Absurds Of Violence
08. Unknown Woman
09. Wraith / The Stage And The Meadow
10. Seizures Of Fear
11. Parade
12. Feet Of Clay
13. Lethargy
14. Outro
Besetzung:
Josh S. – vocals, guitars
Rodrigo Magalhães – bass
Adelson Souza – drums
Bode Preto im Internet:
Homepage
Bandcamp