Band: Born Again
Titel: Strike With Power
Label: Massacre Records
VÖ: 24.02. 2017
Genre: Heavy Metal/ Hardrock
Bewertung: 3,5/5
Written by: Daniel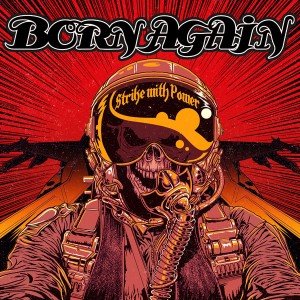 Dass sich die Franzosen nach einem (dem elften) Black Sabbath Album benannt haben, welches nicht gerade durch sein Coverartwork glänzt, passt zum, na ja, Cover.
Und natürlich zur dargebotenen Musik. Die ist ganz offensichtlich von den Pionieren inspiriert, hat aber einen sehr modernen Touch.
Das ist aber nicht negativ zu werten, denn Songs wie der Titeltrack, Preachers Of The Night und Wings Of Gods bestechen durch ihre Ambivalenz, die, so meine Erkenntnis, am Ende dann doch keine ist.
Moderner Groove und klassische Gitarrenarbeit zwischen Toni Iommi und Scott Gorham widersprechen sich nach der Einfuhr von STRIKE WITH POWER definitiv nicht!
Die flotten Betrayal und Angel In Black hätten Judas Priest auch nicht besser hinbekommen, No Class haben Motörhead allerdings genauso gespielt, wie es das Quartett hier zelebriert.
Ein besonderes Lob verdient neben der fetten Produktion auch Rotzröhre Thierry, der hier mit seinem rauhen Organ für zusätzlichen Druck sorgt.
Insgesamt ein starkes Debüt, das durch seine scheuklappenfreie Herangehensweise an die heilige Musik besticht. Wenn auch noch nicht überragend komponiert, ist es ein Album, welches bei jung und alt Anklang finden dürfte. Da geht noch einiges, und da wird noch einiges kommen, ganz sicher. BORN AGAIN solltet ihr daher unbedingt anchecken.
Trackliste:
01. New Generation
02. Strike With Power
03. Preachers Of The Night
04. Betrayal
05. We Feed The Fire
06. Angel In Black
07. Deal With The Devil
08. Wings Of Hate
09. No Class (Motörhead Cover)
10. Dawn Of The Gods
Besetzung:
Thierry – Gesang
Chris – Gitarren
Christopher – Bass
Pich – Drums
Born Again im Internet: