Band: Midnight
Titel: Shox Of Violence
Label: Hells Headbangers
VÖ: 20.02. 2017
Genre: Old School Black/ Speed Metal
Bewertung: ohne Bewertung
Written by: Daniel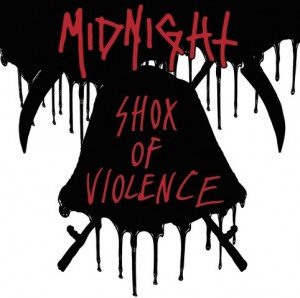 Das Duo dürfte vor allem Toxic Holocaust, Cruxifiction, Sabbat und co. – Anhängern ein Begriff sein.
Haufenweise EPs, Splitveröffentlichungen und drei Compilations pflastern, neben zwei Alben, den Weg der US Amerikaner.
Demnächst erscheint die vierte Zusammenstellung, deren Titelliste sage und schreibe 25 Lieder beinhaltet, die allerdings nur in der Kassetten- und CD- Version erhältlich sind.
Mit nur den vier neuen Stücken Death Scream, Who Gives A Fuck?, Ready For Destruction und Groin Gripper muß sich der Schallplattenliebhaber begnügen.
Diese vier Songs stehen
– in der üblichen Machart zwischen Motörhead, The Ramones, Toxic Holocaust und Venom –
der Klasse der bisherigen Veröffentlichungen in nichts nach, wobei besonders Who Gives A Fuck und Groin Gripper herausragen.
Ansonsten gibt es reichlich Bonüsse, bei denen das Klangbild allerdings erheblich schwankt.
Unter anderem mit dabei sind 14 Coverversionen. Gleich drei davon sind den Seattler Punkrockern The Spits gewidmet. Die haben allerdings nur Homerecordingqualität, was Rumpelfans erfreuen dürfte. Die immerhin zwei Venomcover sind indes im Studio aufgenommen worden und auch in der Umsetzung erwartungsgemäß ordentlich geworden.
Das Cruxifiction– sowie die Pagans Coverversionen sind sogar noch gelungener, schwanken aber in der Tonqualität.
Skurril und im Demoklang kommen hingegen der Quiet Riot – Klassiker Slick Black Cadillac und Girlschools Watch Your Step rüber.
Die zwei Liveaufnahmen von Unholy And Rotten und …On The Wings Of Satan sind klangtechnisch ebenfalls auf unterem Bootlegniveau.
Zudem machen einige Non- Albumtracks wie das von der Split mit Shitfucker bekannte Sadist Sodomystic Seducer und Demotracks die Wundertüte für Fans voll.
Ob man sich SHOX OF VIOLENCE zulegen sollte, ist eine Sache der Abwägung.
Bei 25 Titeln befindet sich zwangsweise auch immer etwas wenig brauchbares, allerdings überwiegt der Spaß beim hören hier am Ende.
Trackliste:
01. Death Scream
02. Who Gives A Fuck?
03. Ready For Destruction
04. Groin Gripper
05. Sadist Sodomystic Seducer
06. In League With Satan (Venom Cover)
07. Too Loud For The Crowd (Venom Cover)
08. The Witch
09. Breakout (Taipan Cover)
10. Hells Fire (Mistreater Cover)
11. TAP
12. When I Die (Pagans Cover)
13. Unholy And Rotten (Live)
14. …On The Wings Of Satan (Live)
15. Slick Black Cadillac (Quiet Riot Cover)
16. Nuclear Bomb (The Spits Cover)
17. Black Kar (The Spits Cover)
18. Rat Face (The Spits Cover)
19. Shitty World (The Spits Cover)
20. Death Sentence (Crucifixion Cover)
21. Wicked Women (Scarab Cover)
22. Eyes Of Satan (Pagans Cover)
23. Watch Your Step (Girlschool Cover)
24. Vomit Queens (Demo)
25. Cross Held High (Demo)
Besetzung:
Athenar – Gesang, Gitarren, Bass
SS – Schlagzeug
Midnight im Internet:
Homepage