Band: Brunhilde
Titel: Dollhouse
Label: 7Hard
VÖ: 24.07. 2015
Genre: Hardrock
Bewertung: 3/5
Written by: Daniel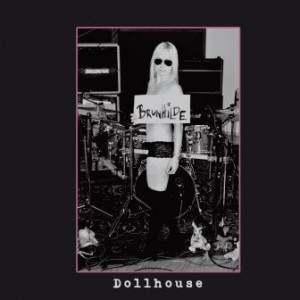 Die als Coverband gestarteten Nürnberger spielen ordentlichen Hard Rock zwischen Tradition (von den Rolling Stones bis Uriah Heep) und Moderne (Guano Apes bis H-Blockx) mit bemühter Kick Ass Attitüde, die allerdings manchmal eher wie ein zartes Kribbeln wirkt denn wie ein saftiger Tritt der sitzt.
Das liegt wohlgemerkt nicht an der Stimme der (auch optisch sehr ansprechenden) Sängerin Caro, die passend zum Sound in etwa wie eine Kreuzung aus Sandra Nasić und Nina C. Alice klingt.
Hammermäßige Stimme also, und auch die Riffs sind durchaus knackig. So bieten Drive Me Like A Maniac, Second Class Cut Me To Loose, Serious Teacher und Tube Radio genug Drive, um sehr gut zu unterhalten.
Aber mit groovie Zeug al a I Wanna Do Bad Things With You kommen mir eher böse Verrissbespaßungen für Leser, die sich am Leid des Rezensenten nur allzu gern ergötzen in den Sinn. Softer Nineties Rock wie Kill Me dürfte alle Radiorocker erfreuen, die auch so manches Dorffest mitnehmen,jedoch gestandenen Rock N`Rollern die gute Laune töten, Machine Gun hat die gleichen Ladehemmungen wie I Wanna Do Bad Things With You, die Ballade Never Die langweilt zu Tode.
Kommen wir zum Fazit, und da teile ich die Meinung einiger Kollegen anderer Magazine nicht wirklich: Potenzial ist zwar viel vorhanden, aber noch kommt es nicht zum Tragen. Zumindest nicht auf Konserve!
Der Pressetext verspricht wie immer Revolution und Neuheiten, aber am Ende ist Dollhouse nicht wirklich doll, sondern eher etwas orientierungs- und profillos.
Zudem ist der Bandname überdenkenswert (um es mal vorsichtig zu äußern) und ein erheblicher Teil der Trackliste nur guter bis unterer Durchschnitt. Das reißen die starken Songs nicht wirklich raus, schade.
Trackliste:
01. Dollhouse
02. Justified
03. Drive Me Like A Maniac
04. I Wanna Do Bad Things With You
05. Second Class
06. Kill Me
07. Machine Gun
08. Never Die
09. Cut Me Loose
10. Serious Teacher
11. Soul Strip
12. Tube Radio
Besetzung:
Caro – vocals
Kurt – guitar, bass
Eric – drums
Brunhilde im Internet: