Band: Casablanca
Titel: Miskatonic Graffiti
Label: Despotz Records
VÖ: 25.09.15
Genre: Rock/Progressive Rock
Bewertung: 4,5/5
Written by: Peter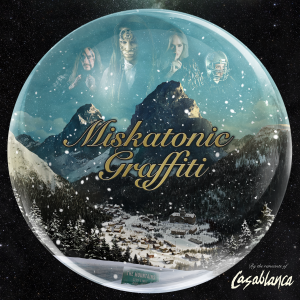 Verdammt stark ist die neue Scheibe Miskatonic Graffiti ausgefallen, welche uns die Schweden-Rocker Casablanca Ende September ins Redaktionsnest legten. Die Journaille freute sich aus mehreren Gründern, die neue Langrille der Nordmänner (mit Dame am Schlagzeug) besprechen zu dürfen; aber bevor die Sache zündete, brauchte es einige Durchläufe, damit sich die Melodien und Songstrukturen im Kopf des Hörers zu einem sinnvollen Ganzen fügten. Liebe Leute, gebt den schwedischen Bogart-JüngerInnen die Zeit, die ihre neue Platte braucht, es lohnt sich wirklich!
Geboten wird in insgesamt zehn Tracks eine Reise durch klangliche Rock und Progressive-Rock-Landschaften, die in den Siebzigern wurzeln (vor allem auch im teils prägenden Hammondorgel-Einsatz), aber auf Höhe der Zeit produziert sind – die Gitarren greifen teils richtig ins Volle. Im Vordergrund stehen dabei catchy Melodien sowie die Vocal-Lines des Sängers Anders Ljung, der ein Könner ist. Zwei Tracks (der Opener Enter The Mountains und der "Closer" Exit The Mountains) haben Überlänge, passen aber zum Gesamtkonzept der Platte: Erzählt wird eine Geschichte, die auf den Mythologien H.P. Lovecrafts aufbaut, dabei aber den Rock'n'Roll-Style, für den die Truppe stehen will, in den Fokus rückt. Also sogar auch Mitdenken bei den Lyrics ist erlaubt. Kurz, eine wirklich tolle Rockscheibe aus Schweden, die Lust auf noch mehr macht!
Tracklist:
01. Enter The Mountains
02. Closer
03. This Is Tomorrow
04. My Shadow Out Of Time
05. RE: Old Money
06. Sister
07. Name Rank Serial Killer
08. Miskatonic Graffiti
09. She Was The One
10. Exit The Mountain
Besetzung:
Anders Ljung – Vocals
Mats Rubarth – Bass
Josephine Forsman – Drums
Erik Almström – Guitar
Ryan Roxie – Guitar
Erik Stenemo – Guitar
Casablanca im Internet: