Band: Corners Of Sanctuary
Titel: Metal Machine
Label: Metalizer Records Germany
VÖ: 14. Dezember 2015
Genre: Heavy Metal, Hard Rock
Bewertung: 0,5/5
Written by: Lazer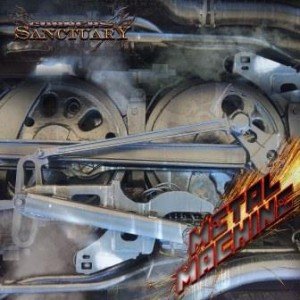 Mitte des Monats kam ein Rundling ins Haus, er die hitzige und stressige Weihnachtszeit gleich mit einem Schlag entschleunigt hatte.
Corners Of Sanctuary brachten mit "Metal Machine" ihren vierten Longplayer ans Tageslicht.
Ach du heiliger Gitarrenständer…was ist denn das? Was will uns die Altherren-Truppe denn mit diesem Album sagen?
NWoTAHM an sich ist bekanntlich kein "Reißer-Genre", aber "Metal Machine" – sorry, aber – kann rein gar nichts. Die Melodien sind sehr gut versteckt und der Rhythmus ist, naja, sagen wir mal höflich, nicht energischer als ein winziges Gebirgsbächlein das nach ein paar Metern im Nirgendwo vergeht.
Man bedient zwar die herkömmlichen Instrumente, jedoch können Corners Of Sanctuary absolut nichts aus ihnen heraus holen. Man merkt zwar ansatzweise die Klänge eines Solos, ein kurzes Geplänkel an den Kesseln und ein mikriges Beben des Basses, aber alles viel zu lasch und zäh. Die Vocels setzen dem Ganzen dann die Krone auf. Zäher und öder geht es wohl kaum. Die Vocals sind fast schon schlecht. Dezent unmotiviert und un-kreativ klingt Metal Machine.
Mein Fazit: Absolut unnötig investierte Zeit. Metal Machine von Corners Of Sanctuary ist leider nicht geglückt. Die Platte zieht sich schlimmer als ein Kaugummi. Ein Harnwegsinfekt ist mit Sicherheit spannender.
Tracklist:

01. Turn It On
02. Metal Machine
03. Like It Matters
04. Left Scarred
05. In Blood We Shall Fight
06. The Return
07. Souls Will Shout
08. Monster
09. Tomorrow Never Comes
10. Wrecking Ball
11. Killswitch
Besetzung:
Frankie Cross – Vocals
Mick Michaels – Guitars
James Pera – Bass
Sean Nelligan – Drums
Internet:
Corners Of Sanctuary Website
Corners Of Sanctuary @ Facebook