Band: Cowards
Titel: Rise To Infamy
Label: Throatruiner Records
Genre: Black/Death Metal, Hardcore, Sludge
VÖ: 2015
Bewertung 2,5/5
Written by: Robert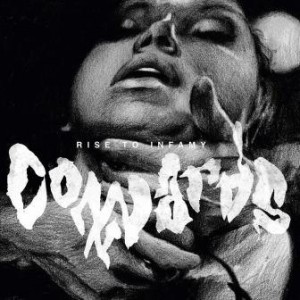 Die Pariser Combo Cowards serviert uns mit "Rise To Infamy" bereits ihr zweites Langeisen. Hardcore, Sludge und Black Metal wollen sie vereinen. Na ja, dies ist wohl ein Unterfangen, wo man sich selbst etwas sehr schweres auferlegt hat. Hier wird nicht lange geziert, sondern bewiesen dass man dies unverfroren zusammenbringt. Die Stimmigkeit ist hier aber eben ein Bestandteil ob man dies hinbekommt und da hapert es einfach zusehends. Die Soundfragmente, die man hier in den Rundling fließen hat lassen sind gut, wenn auch teilweise sehr anstrengend am Stück anzuhören. Besonders und für meinen Teil spitzfindig, sind die Einflüsse des Sludge, welche man sehr groovig und durchaus rau unter Dach und Fach gebracht hat. Dies alleine macht aber noch lange keinen Sommer oder Winter. Über den Rundling verteilt beübt man den Hörer mit sehr komplexen Strukturen und sehr unangenehmen Noiseunterwanderungen. Diese eben schmälern den Gesamteindruck zusehends. Etwas schade, denn es gibt auch Passagen wo man mächtig hervor donnert und eben den gelungene Groove-Sludge Einfluss zu Protokoll bringt, welcher einfach den Franzosen am besten stehen würde. Gesanglich passen die geisteskranken Schreivocals zwar, sind aber ebenfalls etwas schwächer geworden. Durch die Bank wird viel schlechte Laune versprüht und man gibt sich einfach total auf die Welt und Menschheit angepisst. Persönlich finde ich, das man es doch deutlich handsamer angehen sollte, denn so hat man einige Spagat Sprünge veranschlagt, welche Lücken hinterlassen, die man eben nicht füllen kann.
Fazit: Die Grundelemente der genannten Genres hat man wohl gut vermischt, dennoch ist das Album etwas wirr und teilweise unausgegoren. Ein somit sehr zweischneidiges Schwert das man uns hier präsentiert, denn der Rundling hat auch absolut seine Stärken, welche ich eben im Sludge Sektor sehe.
Tracklist:
01. Shame Along Shame
02. Never To Shine
03. Frustration [Is My Girl]
04. Beyond My Hands
05. Birth Of The Sadistic Son
06. Low Esteem
07. Anything But The Highroad
08. Wish For Infamy
09. Bend The Knee
10. So Easy
Besetzung:
J.H. (voc)
T.A. (guit)
A.L. (guit)
G.T. (bass)
C.L. (drums)
Internet:
Cowards Website