Band: Crimson Day
Titel: Order Of The Shadows
Label: Iron Shield Records
VÖ: 16.10. 2015
Genre: Heavy/Melodic Metal
Bewertung: 4/5
Written by: Daniel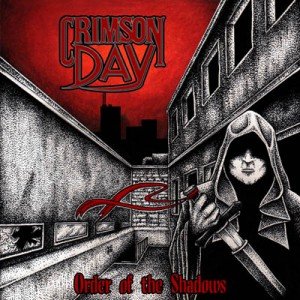 Junge, Junge, die finnischen Newcomer hatte ich wirklich nicht auf dem Schirm.
Die vor zwei Lenzen gegründete, traditionelle Heavy Metalband gehört zwar in ihrer Heimat "nur" zum Underground, aber hat es faustdick hinter den Ohren.
Während das Intro Enter The Order eher vermuten lässt, das es gleich im Stile alter Metallica (die in Folge immer mal wieder dezent durchschimmern) zur Sache geht, überrascht dann Stormborn durch klassischem Judas Priest Stoff mit mitteleuropäischer Note.
Der Refrain von And Then Came Death zieht einem (im positiven Sinne) den rechten Stiefel aus. Und spätestens beim orientalisch angehauchten Sandstalker ist man dann Barfuss.
Neben Priest scheinen vor allem Gamma Ray, alte Stratovarius und Pretty Maids ein großer Einfluss zu sein.
Order Of The Shadows, Burning Redemption, Fatal Destination, Lies About Paradies, Blessed Be Thy Hate und The Gathering verbinden diese Einflüsse absolut werthaltig. Soll heißen, dermaßen starke Nummern in der Fülle bekommt man selten geboten.
Zwar ist auf ORDER OF THE SHADOWS nicht alles perfekt gelungen, aber diverse noch vorhandene Schwächen im Gesang von Valtteri Heiskanen (Kai Hansen meets Fabio Steel, dazu ein leichter Halford Unterton, wie geil ist das denn?!)
seien genauso verziehen wie der ein oder andere marginale, instrumentale Stolperer. Denn insgesamt liegt hier ein verdammt starkes Debüt vor, das jedem Metaller zu empfehlen ist.
Knallharte Riff und melodische Refrains dermaßen zu verknüpfen ohne cheesy zu wirken, ist eine große Kunst. Und die beherrschen CRIMSON DAY schon jetzt!
Trackliste:
01. Enter The Order
02. Stormborn
03. And Then Came Death
04. Sandstalker
05. Order Of The Shadows
06. Lies About Paradise
07. Far From Serenity
08. Burning Redemption
09. Fatal Destination
10. Blessed Be Thy Hate
11. The Gathering
Besetzung:
Valtteri Heiskanen – vocals
Jesse Liukkonen – guitars
Ari Balzar – guitars
Jesse Kämäräinen – bass
Tuomas Lesonen – drums
Crimson Day im Internet:
Homepage
Bandcamp