Band: Eddy Malm Band
Titel: Northern Lights
Label: No Remorse Records
VÖ: 09. Dezember 2016
Genre: Heavy Metal/Hard Rock
Bewertung: 4/5
Written by: Daniel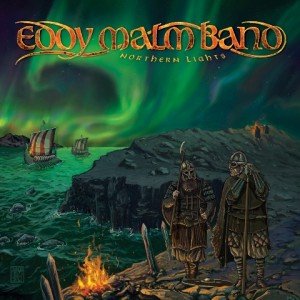 Wow! Dass sich Eddy Malm, der vielen durch sein Wirken bei der legendären schwedischen Band Heavy Load ein Begriff sein dürfte, nach zwei Jahren (Turn It Down erblickte 2013 das Licht der Welt) doch noch zu einem kompletten Album aufrafft, hätte wohl kaum einer für möglich gehalten.
Verbunden hat der Namensgeber der Band seine zwei maßgeblichsten musikalischen Stationen, also neben Heavy Load auch Highbrow, aus dessen Periode mit A Loser sogar ein kompletter, umarrangierter Song vertreten ist.
Heavy Metal aus der Ursprungsphase der NWOBH ist auf NORTHERN LIGHTS also Programm. Der Bezug zum Hard Rock ist, wie es zur Zeitenwende 1970/80 üblich war, hier ebenfalls noch stark präsent. So muß man beim Hören dieser Scheibe öfter an Bands denken, die wie die Rolling Stones (I Had Enough) oder Foreigner (Heart Of A Warrior), eher wenig mit Metal in Verbindung gebracht werden. Oder an heute eher vergessene Perlen wie Badger (Nasty Women, Get Out Of Here).
NORTHERN LIGHTS bietet aber nicht nur Stoff für alte Säcke. Sämtliche Kompositionen klingen frisch und die Produktion ist zeitgemäß und klar, ohne daß diese allerdings Puristen abschrecken sollte. Alleine die Anspieltipps Heart Of A Warrior und Danger bezeugen ein herrlich zeitloses Album. Daher gibt es eine unbedingte Empfehlung meinerseits.
Trackliste:
1. Saturday Night
2. Heart Of A Warrior
3. I Had Enough
4. Turn It Down
5. Nasty Women
6. Dark Nights
7. Get Out Of Here
8. Danger
9. A Loser
10. Northern Lights
Besetzung:
Eddy Malm – Gesang
Per Hesselrud: Führungs- und Rhythmusgitarre, E-Bow, Hintergrundgesang
Tomas Malmfors: Bass, Hintergrundgesang
Micke Kerslow: Schlagzeug, Schlaginstrumente, Hintergrundgesang
Eddy Malm Band im Internet: