Band: Etta Zero
Titel: The Last Of All Sunsets
Label: Dr. Music Records
VÖ: 2014
Genre: Alternative Rock/Metal
Bewertung: 3/5
Written by: Daniel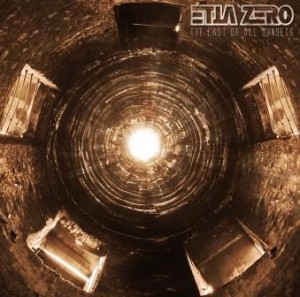 Die Bandbio der Liechtensteiner liest sich für gefestigte Metaller wie meine Wenigkeit erst einmal schrecklich. Als Synthie Pop Metal Band Downfall gegründet entschied man sich nach zehn Jahren und zwei EPs zur Umbenennung in Etta Zero. Mit einer Mischung aus Rock, Elektro, Metal und Pop will man seitdem die Welt erobern. Nun ja, wenig begeistert setze ich zum ersten Hörversuch an und bin erleichtert, denn mit Synthie Pop hat die Musik des Vierers zum Glück nur marginal zu tun, der Titeltrack erinnert mich eher an eine Mischung aus Waltari und metallische Sunrise Avenue. In den folgenden Songs sind auch Einflüsse von Amorphis und vor allem The Rasmus sowie den Blind Passengers auszumachen bei denen die ausgewogene Mischung der unterschiedlichen musikalischen Anteile besonders lobenswert ist. Hier geht trotz fetter Gitarren der Popappeal nicht flöten, was sich vor allem bei  "From The Ashes" und dem Trademarksong auszahlt. Die beiden Songs dürften auf jeder Metaldisco für volle Tanzflächen sorgen während "Sorrow", "Set Me Free" und "The Downfall Factory" sogar gute Chancen hätten in den Gothicschuppen Europas zu Dauerbrennern zu werden. An sich macht die Truppe auf ihrem Debüt vieles richtig: abwechslungsreiche Kost und gutes Songwriting, dazu die tolle Produktion von Tommy Vetterli, jedoch hat man immer wieder das Gefühl dies alles schon einmal gehört zu haben. Das gibt natürlich Abzüge in der B – Note, dennoch ist The Last Of All Sunsets  ein gelungenes Debüt geworden welches mit dem abschließenden, über zehnminütigen "Heaven Is Closer" enorm aufgewertet wird. Für Fans oben genannter Bands ist dieses Album auf jeden Fall hörenswert.
Tracklist:
01. Something Big (Intro)
02. The Last Of All Sunsets
03. Sorrow
04. All That I See
05. From The Ashes
06. Crush On You
07. Anymore
08. Etta Zero
09. Heartbeats
10. Set Me Free
11. The Downfall Factory
12. Heaven Is Closer
13. The Last Of All Sunsets (Drop RMX)
Besetzung:
Mathias Nutt (voc, synth)
Johannes Schraner (guit, synth)
Thomas Hemmi (bass, synth)
Marius Matt (drums, perc)
Internet:
Etta Zero Website