Band: FEANOR
Titel: We Are Heavy Metal
Label: Massacre Records
VÖ: 25.11.16
Genre: Heavy Metal/True Metal
Bewertung: 3,5/5
Written by: Peter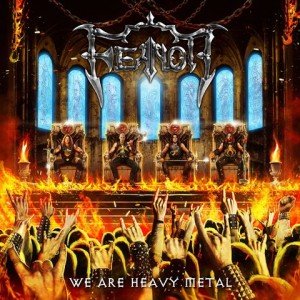 Liebe Leute, zu Beginn dieses Reviews der dritten CD We Are Heavy Metal der argentinischen Wahrheits-Metalleros Feanor möchte ich mich der Truppe als Promo-Berater anbiedern: Ich finde nämlich zumindest ihr deutscher Sänger Sven D'Anna und Basser Gustavo Acosta sollten sich (damit sie als Band nicht nur spielen, sondern killen) true Pseudonyme zulege – für Sven wäre "Lord von Eierquetsch" gut; für Gustavo "Mister Mayo" – ich denke, damit wäre zur Einordnung der Typen alles gesagt.
Man exportiert auch auf dem drittem Album Edelstahl aus Argentinien, wie er wahrer nicht sein könnte. Alles schreit ganz laut nach den Kings of Metal aus New York, USA. Das Problem dabei ist, man erreicht nie und nie und nie die Qualiät deren (zugegebener Maßen antiker) Heldentaten. Gute Soli, melodischer Gesang und ein bisschen Power-Riffing. Und aus. Das bleibt leider besserer Durchschnitt. Die Jungs mögen zwar Metall sein, aber das ist die Rostblase an Omas 1983er-Golf II auch. Sorry, da hilft auch dickes Namedropping bei Features mit Ross the Boss oder David Shankle nix (warum wohl gerade solche Gestalten aus dem Manowar-Umfeld?).
Tracklist:
01. We Are Heavy Metal
02. Ëol The Dark
03. Ëarendil The Sailor
04. The Discipline Of Steel
05. Water Gardens
06. Dagor Nuin Giliath
07. White And Blue
08. Crying Games
09. The Visitors
10. In The Darkness
11. The Scribe
12. The Epic Of Gilgamesh Pt.1 (The Quest For Glory)
Besetzung:
Sven D'Anna – Vocals
Frank Gilchriest – Drums
Walter Hernández – Gitarren
Gustavo Acosta – Bass & Keyboard
Feanor im Internet:
Feanor Website