FORGOTTEN TOMB – WE OWE YOU NOTHING
Band: FORGOTTEN TOMB
Titel: WE OWE YOU NOTHING
Label: Agonia Records
VÖ: 27.10.2017
Genre: Gothic/Black/Doom Metal
Bewertung: 5/5
Written by: Dr. Maze Pain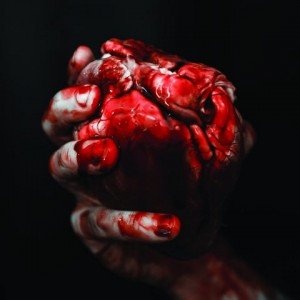 Forgotten Tomb existieren seit 1999. Allerdings in den Anfangstagen handelte es sich um ein Soloprojekt von Herr Morbid, der im Laufe der Zeit auch die Instrumente wechselte und nun bei Gitarre/Gesang hängen geblieben ist. Die ersten 2 Full – Lenght Alben plus 1 Demo wurden eben als Solo Projekt veröffentlicht. Ab dem Album "Love´s Burial Ground" formierte sich dann eine Band und dies behält "Herr Morbid" bis heute bei. Nach 8 Full-Lenght Alben, 1 EP, 1 Split, 1 Demo, 1 Live Album, 1 Live Video sowie einem Sampler Beitrag halte ich deren neuesten Streich, Output Nr.9,  "We Owe You Nothing" in Händen. Fleißig! Ich selbst habe die Band mit dem 2015er Werk "Hurt Yourself And The Ones You Love" entdeckt. Und bin davon bis heute fasziniert.
Was kann das neue Werk denn nun? Kann es auf meiner Skala mithalten? Ja, es kann! Sehr gut sogar. Weil es einfach den Flow von "Hurt Yourself…" halten kann. Die Songs klingen eingängig, irgendwie massentauglich, aber gleichzeitig sehr böse und suizidal. Voller dunkler Athmosphäre, Härte und Brutalität.
Der Doom Sound wurde meiner Meinung etwas zurückgeschraubt. Auch der Gothic Sound. Am ehesten ist die neue Platte in die Richtung American Metal einzuordnen. Melodischer, beinharter American Metal, sehr rhythmisch belastet. Midtempo. Manchmal findet sich auch Death Metal drauf. Der Black Metal Sound ist natürlich immer noch präsent, aber hauptsächlich aufgrund des Herrn Morbids Stimme (An manchen Stellen wie Obituary´s John Tardy). Einfach eine Scheibe zum durchgehenden Bangen geeignet.
Nur… für mich jezt nicht, aber für viele Journalisten und auch Fans und Neueinsteiger spiegelt "We Owe You Nothing" nicht den typischen Sound der Band wider. Er hat sich sehr wohl verändert und das finde ich gut. Eine Band kann und darf nicht auf der Stelle treten. Ich glaube, dass dieses Album polarisieren wird.
Die Produktion klingt gewaltig. Egal nämlich, ob er aus den Boxen meiner Soundanlage, meines Autos oder rein über meine Handylautsprecher schallt. Der Sound ist gewaltig. Genial gemacht.
Songempfehlung? Alle! Auch der intrumentale Rausschmeißer "Black Overture". Der Song klingt nämlich eindeutig nach Doom/Melodic- Black. GENIAL! SEHR FEIN! Ich liebe diese Platte! Daumen hoch! Rock on!
Tracklist:
01. We Owe You Nothing
02. Second Chances
03. Saboteur
04. Abandon Everything
05. Longing For Decay
06. Black Overture
Besetzung
Ferdinando "Herr Morbid" Marchisio – Guitars, Vocals
Alessandro "Algol" Comerio – Bass
Kyoo Nam "Asher" Rossi – Drums
Internet:
Forgotten Tomb Website