Band: Legacy Of Emptiness
Titel: Over The Past
Label: Black Lion Records
VÖ: 12.06.17
Genre: Symphonic Black Metal
Bewertung: 1/5
Written by: Jasmin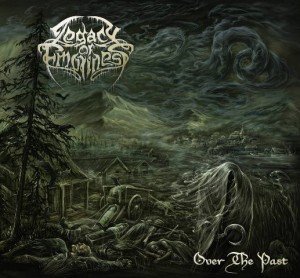 Legacy Of Emptiness sind eigentlich die Ursprungsbesetzung von "Ancestral Legacy", einer Dark-, Doom-, Goth Metal Band aus Norwegen. Der Sinn der nun bereits zweiten Veröffentlichung unter anderem Namen erschließt sich mir nicht, zumal es doch sogar den nostalgischen Titel "Over The Past" trägt. Die einzigen Unterschiede die ich feststellen konnte sind nämlich bloß das Fehlen der weiblichen Stimme, und dass die Melodien ein Spürchen mehr episch als doom-ig klingen.
Ganze fünfzig Minuten dauert das Album, das ein paar Schmankerln bereithält bei denen sich mir beim bloßen Zurückerinnern sämtliche Haare aufstellen. "Drawn by Nightmares" scheint nämlich meinen kopfeigenen Albträumen entsprungen zu sein – maskulin anmutender Klargesang im Stil von "Sisters Of Mercy", leider weder mit Talent noch mit Berechtigung durch Kultstatus.
Übermäßiger Einsatz des Keyboards auf der kompletten Disc macht das Anhören für mich auch nicht leichter – oftmals wollte ich einfach den Kopf gegen den vor mir befindlichen Musik-Abspieler schlagen. Hinzu kommt noch, dass die Produktion eher mittelmäßig bis schlecht ist und das Desaster ist perfekt.
Tracklist:
01. Reminisce 06:37
02. Despair 04:36
03. Angelmaker 06:05
04. Into the Eternal Pits of Nothingness 04:45
05. Drawn by Nightmares 06:27
06. There Was a Man 05:53
07. Four Hundred Years 05:29
08. Transition 02:58
09. Evening Star 05:55
Besetzung:
Eddie Risdal – Vocals, Guitar, Programming
Kjell-Ivar Aarli – Bass
Øyvind Rosseland – Keyboard
Internet:
Legacy Of Emptiness @ Bandcamp
Legacy Of Emptiness @ Myspace