MICHAEL SCHENKER FEST – RESURRECTION
Band: MICHAEL SCHENKER FEST
Titel: RESURRECTION
Label: Nuclear Blast Records
VÖ: 02.03.2018
Genre: Rock
Bewertung: 4/5
Written by: Dr. Maze Pain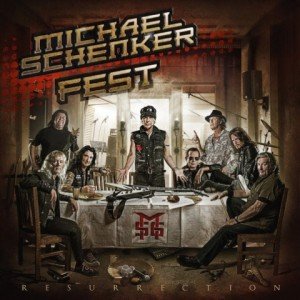 Im Jahr 2016 rief Schenker MICHAEL SCHENKER FEST ins Leben und begab sich auf Tour mit den ehemaligen MICHAEL SCHENKER GROUP-Sängern Gary Barden und Graham Bonnet sowie
Robin McAuley von der McAULEY SCHENKER GROUP. Instrumentelle Unterstützung kam vom
ehemaligen M.S.G.-Bassisten Chris Glen und Schlagzeuger Ted McKenna sowie Gitarrist und
Keyboarder Steve Mann (ebenfalls von der McAULEY SCHENKER GROUP). Diese Shows wurden von den Zuschauern in Japan und Europa so begeistert aufgenommen, dass es für alle Beteiligten nur logisch erschien, gemeinsam neue Musik zu erschaffen. Die Entscheidung, Doogie White, den Sänger von MICHAEL SCHENKERS TEMPLE OF ROCK mit einzubinden, war ebenfalls ein weiterer logischer Schritt und verleiht dem Projekt ordentlich an Tiefgang.
Alles in Allem also ein perfektes Album vom "German Wunderkind"? Naja, die Songs von "Ressurection" an sich krachen aus den Boxen, wie es sich für Hard Rock / Melodic Rock Mucke auch so gehört. Das Songwrting ist hervorragend,  die Songs klingen wie aus einem Guss und die Produktion ist natürlich, wie auch nicht anders zu erwarten, auf einem sehr hohen Niveau.
ABER: Solche Mucke fällt halt einfach schon unter den Banner "Tausendmal gehört", selbst wenn Metallica´s Kirk Hammet bei "Heart And Soul" mitwirkt. Das stört mich jetzt einfach ein wenig. Wieso sollte Michael Schenker auch anders arbeiten. Es führt halt zum Erfolg und seine Songs verkaufen sich wie geschnitten Brot. Darauf kann man sich auch bei diesem Album verlassen, was ja zumindest schon live bewiesen wurde. Da darf man ruhig die Scheuklappen auflassen, auch wenn dadurch alles immer irgendwie gleich klingt. Die Fans freuts und es sei ihm vergönnt. Rock on!
Tracklist:
01. Heart And Soul
02. Warrior
03. Take Me To The Church
04. Night Moods
05. The Girl With The Stars In Her Eyes
06. Everest
07. Messing Around
08. Time Knows When It´s Time
09. Anchors Away
10. Salvation
11. Living A Life Worth Living
12. The Last Supper
Besetzung:
Michael Schenker: Gitarre, Gesang
Gary Barden: Gesang
Graham Bonnet: Gesang
Robin McAuley: Gesang
Doogie White: Gesang
Chris Glen: Bass
Ted McKenna: Schlagzeug
Steve Mann: Gitarre, Keyboard
Guest:
Kirk Hammett: Gitarre
Internet:
MICHAEL SCHENKER FEST @ Facebook