Band: Night Ranger
Titel: Big In Japan
Label: Collectors Dream Records
VÖ: 2013
Genre: Melodic Hardrock
Bewertung: 4/5
Written by: Thorsten Jünemann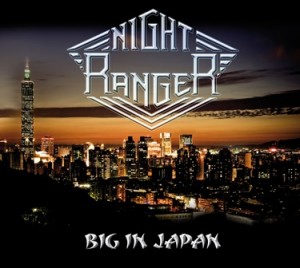 Vor gar nicht allzu langer Zeit über "24 Strings And A Drummer" (Live & Acoustic) sinniert, schon das nächste Live-Dokument im Schacht, der alles rotieren lässt: "Big In Japan" zeigt NIGHT RANGER in bester Verfassung in Tokio, Japan.
Warum jetzt schon wieder "live", kann ich nicht verstehen, doch es gibt schlimmeres und ich kann mich gut mit dem Album anfreunden.
Über NIGHT RANGER zu sprechen, bzw. sie jemanden zu erklären, wäre wie "Eulen nach Athen tragen";
Eine in den US of A ewig erfolgreiche Hard Rock/AOR Band, die es nie geschafft hat, in good old Europe so richtig zu punkten, obwohl wahrlich hochkarätige Musiker seit den Anfangsachtzigern unter dem Banner aktiv sind. Aber warum veröffentlicht man jetzt ein 1997er Konzert?
Vielleicht liegt es an der superben Setlist, die einem regelrechten Best-Of Feuerwerk gleicht und die inzwischen älteren Herren verdammt gut live transportieren.
Dazu gibt es noch ein Interview mit Brad Gillis & Kelly Keagy auf CD veröffentlicht, und Freunde des gepflegten Hard Rock sollten den örtlichen Plattenladen aufsuchen um sich dieses feine Zeitdokument zuzulegen.
Allerdings wäre mir ein visuelles Zeitdokument lieber gewesen…
Tracklist:
CD 1:
01 Neverland
02 Touch Of Madness
03 My Elusive Mind
04 Sing Me Away
05 Somebody I Will
06 Brad Gillis Solo
07 Rumors In The Air
08 Jeff Watson Solo
09 Eddie's Coming Out Tonight
10 Sentimental Street
11 Goodbye
CD 2:
01 Forever All Over Again
02 Slap Like Being Born
03 When You Close Your Eyes
04 New York Time
05 Don't Tell Me You Love Me
06 Sister Christian
07 (you Can Still) Rock In America
08 Interview With Brad Gillis And Kelly Keagy
Besetzung:
Jack Blades (voc, guit & bass)
Kelly Keagy (voc, drums, percussion)
Brad Gillis (guit)
Joel Hoekstra (guit)
Eric Levy (keys)
Internet:
Night Ranger Website
Night Ranger @ MySpace