Band: October File
Titel: The Application of Loneliness, Ignorance
Label: Candlelight Records
VÖ: Mai 2014
Genre: Post Rock/Metal
Bewertung: 2,5/5
Written by: Lazer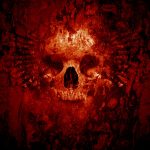 October File fand seine Gründung in London im Jahre 2003. Die vier Jungs aus Oxfordshire zelebrieren Post Rock/Metal auf überdurchschnittlichem Niveau. Ihr viertes Studioalbum hört auf den klingenden Namen The Application of Loneliness, Ignorance, Misery, Love and Despair – An Introspective of the Human Condition.
Also das Rennen um den Award für den längsten Titelnamen haben October File heuer höchstwahrscheinlich für sich entschieden. Leider muss man sagen, war es das aber auch schon. Mit Songs wie zum Beispiel All Rise All Fail oder Heroes Are Welcome wissen die Engländer durchaus zu begeistern, und The Water ist schon ein Ohrenschmaus, muss man zugeben. Jedoch ist der Rest dieser Platte einfach zu eintönig und zu ruhig. Ein kleines bisschen Pep, etwas mehr Geschwindigkeit und ein klein wenig mehr Mut, und das Ganze hätte eine wirklich ansprechende Wirkung erzielt. Ewig gleicher Aufbau und keine Abwechslung in den Vocals machen das Gesamtwerk eher mau. Das vierte Studuioalbum von October File enthält neun Tracks mit einer Spiellänge von knapp 57 Minuten, wobei The Water schon stolze elf Minuten lang ist. Zugegebenermaßen hätten die Jungs ein wenig mehr aus dem Material herausholen können.
Mein Fazit: The Application Of Loneliness… groovt so schön langsam vor sich hin. Grundstimmung ist eher düster, was nicht schlecht sein muss. Jedoch fehlt einfach etwas mehr Mut beziehungsweise ein frischer Impuls. Dieses Album unterscheidet sich zu seinen Vorgängern kaum. October File sind instrumental und stimmlich ganz ordentlich unterwegs, jedoch könnten sie noch den ein oder anderen Prozentpunkt herauskitzeln und etwas Abwechslung im Gesamtkonzept schaffen.
Tracklist:
01. I Fuck the Day
02. Heroes Are Welcome
03. Reinvention
04. The Water
05. Upon Reflection
06. Elation
07. Where the Clouds Meet the Horizon
08. All Rise All Fail
09. To Be Watched Upon
Line-Up:
Ben Hollyer (voc)
Matt Lerwill (guit)
Steve Beatty (bass)
John Watt (drums)
Internet:
October File Website