Band: Primal Fear
Titel: Delivering The Black
Label: Frontiers Records
VÖ: 2014
Genre: Speed/Power Metal
Bewertung: 5/5
Written by: Thorsten Jünemann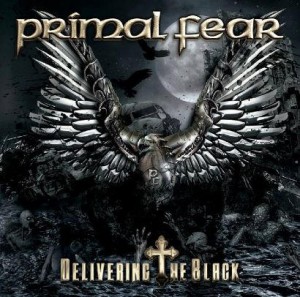 Wer hätte gedacht, dass sich PRIMAL FEAR nochmals dermaßen steigern können?
Ich hatte das in solch geballter Form nicht auf dem Schirm…
Natürlich waren (und sind!!!) PRIMAL FEAR eine eigene Hausnummer in dem Genre, doch fand ich persönlich das Hitpotenzial auf den vergangenen Alben sehr übersichtlich!
Nein, wirklich schlecht war bis dato kein Album, aber…egal!
"Delivering The Black" klingt fett, wuchtig, frisch und legt die Messlatte nicht nur für die Konkurrenz sehr hoch denn an dem Output muss man sich wg. der Klasse erstmal messen lassen!
In den ersten 3 Minuten klingen Primal Fear mehr nach Metal als es Judas Priest in der letzten Dekade tat…und das passiert durchgehend ohne Hänger und Füller auf dem kompletten Album! Melodisch stampfend, rotzig rockend ohne zu vergessen dass unter dem Banner Primal Fear Metal erwartet wird, ist "Delivering The Black" bereits im Januar ein Highlight des Jahres, welches nur schwer zu toppen sein wird!
Das inzwischen 3.Baby, an dem Mat Sinner und Alex Beyrodt in den letzten Monaten gemeinsam gewerkelt haben, welches im Gehörgang regelrecht explodiert und sich festkrallt…
Egal ob 70er Hardrock, Melodic Power Metal oder alles niederwalzender Power Metal:
Was die beiden auch anfassen, funktioniert extrem gut!
Verstärkt durch den ebenso talentierten Songwriter/Gitarristen/Keyboarder Magnus Karlsson, Drumvieh Randy Black (Annihilator) und dem Ausnahmesänger Ralf Scheepers ist "Delivering The Black" das Album der Stunde und definitiv einen Blindkauf wert!
Für den amtlichen Sound war übrigens Jacob Hansen (Malrun, Fate,..) zuständig!
Bis jetzt aus meiner Sicht das beste Primal Fear Album EVER!!!
Und das beste Album in dem Genre, was ich seit Ewigkeiten gehört habe…
Tracklist:
01. King for a Day 03:44
02. Rebel Faction 04:41
03. When Death Comes Knocking 06:58
04. Alive and on Fire 04:48
05. Delivering the Black 04:01
06. Road to Asylum 03:48
07. One Night in December 09:18
08. Never Pray for Justice 04:23
09. Born with a Broken Heart 04:36
10. Inseminoid 05:01
Besetzung:
Ralf Scheepers (voc)
Magnus Karlsson (guit)
Alex Beyrodt (guit)
Randy Black (drums)
Mat Sinner (bass & voc)
Internet:
Primal Fear Website
Primal Fear @ MySpace