Band: Rage of Angels
Titel: The Devils New Tricks
Label: Escape Music
VÖ: 26.02.16
Genre: Melodic Rock/AOR
Bewertung: 4/5
Written by: Totti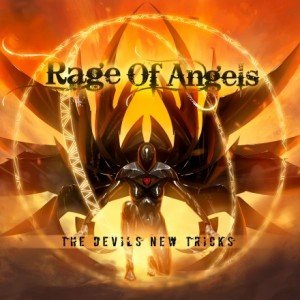 Wenn sich alte Hasen der Musikszene zusammentun, kommt meist etwas sehr Gutes dabei heraus, ähnlich im Fall RAGE OF ANGELS mit dem passend betitelten Album "The Devil´s New Tricks".
2013 bescherte das Debüt "Dreamworld" Melodic- und Heavyrockern sowie AOR Freaks stundenlange Freude an der Musik.
So auch heuer…
Bandvater Ged Rylands (Ten, Tyketto) scharte mit Rob Moratti (Saga, Final Frontiers), Neil Fraser (Ten), Chris Green (Rubicon Cross), Martin Kronlund (Gypsy Rose), Perra Johannsen (Coldspell) & Chris Goldsmith (Coldspell) ein gutes "Who Is Who" des Genre um sich, um erneut einen musikalisch hochwertig Angriff auf´s sanfte, melodische Gehör zu starten.
2 Unterschiede zum Debüt sind auszumachen:
Mit Rob Moratti gibt es diesmal nur einen Leadsänger, während auf dem Debüt Genre-Sangesgötter wie u.a. Harry Hess & Danny Vaughn ihr "Stell dich-ein" am Mikro gaben.
Der zweite Unterschied ist meiner Meinung nach die stilistische Ausrichtung; 2013 klangen RAGE OF ANGELS etwas heavier. 2016 klingt man immer noch heavy genug um nicht ganz im zuckersüßen melodisch-rockenden AOR kleben zu bleiben. Davon sind die Songs nicht weit, aber entfernt. Hier und da kommen Erinnerungen an melodischen DIO auf, aber auch die äußerst radiotaugliche Seite von Rainbow / Whitesnake geht mir dabei durch den Kopf.
Durch die Anzahl der beteiligten Musiker ist es schwer möglich einzelne Songs hervorzuheben, denn natürlich bringt jeder Musiker seinen eigenen Einfluss rein und lässt alles irgendwie anders klingen, als man es vielleicht erwartet (hat). Aber das ist es, was mir an diesem Album Spaß macht und gefällt, auch wenn es nicht mit einer Tracklist voller Highlights gesegnet ist.
Definitiv überdurchschnittlich und sollte von Genre-Fans mindestens gehört werden. Aber zu einem Meisterwerk fehlt noch einiges…das Debüt konnte mehr!
Tracklist:
01. Rage of Angels
02. All You Own Way
03. The Devil's New Tricks
04. One Step Closer
05. Strangers In The Night
06. Love Will Never Die
07. In And Out Of Love
08. I Feel It In My Heart
09. Stop Changing The TV
10. Long Days Without You
Besetzung:
Ged Rylands (keys & guit)
Rob Moratti (voc)
Neil Fraser (guit)
Chris Green (guit)
Martin Kronlund (guit)
Perra Johannsen (drums)
Chris Goldsmith (bass)
Internet: