Band: Revolting
Titel: Visage Of The Unspeakable
Label: FDA Rekotz / Soulfood
VÖ: 22. Mai 2015
Genre: Death Metal
Bewertung: 4/5
Written by: Lazer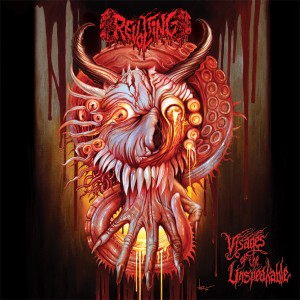 Die letzten drei Jahre ist es ziemlich ruhig geworden um die schwedischen Old School Death-Metaler von Revolting. Im Mai diesen Jahres melden sie sich umso eindrucksvoller in Form ihres neuesten Werkes Visage Of The Unspeakable zurück. Und wie sich die Mannen um Rogga Johansson zurückmelden.
Revolting steht seit jeher für reinen, brutalen und rauen Death Metal. Dies lassen die Nordmänner auch auf ihrem neuen, acht Titel umfassenden, Rundling hören. Keine ins Detail ausgeschmückten Arrangements und pompösen Produktionen hört man hier. Sondern guten alten Old School Swedisch Death Metal in seiner Urform. Unverfälscht und pur. Die Riffs sind brutal und schroff, und die Vocals rau und horrormäßig. Die Melodien kann man auf einer Hand abzählen und die Drums schlagen wie eine Axt durch den Wald. Knapp über 33 Minuten dauert das feine Hörspiel, ehe es leider schon wieder zu Ende geht.
Mein Fazit: Purer Death Metal voll in Fresse liefern uns Revolting mit Visage Of The Unspeakable. Ein Album das an die Anfänge des Death Metals zurückgeht.
Tracklist:
01. Shunned To The Shadows
02. The Whispers Of The Hanged
03. Fathoms Unto Forever
04. Dagger Clawed Chaos
05. Bloodkrudle
06. Severed And Blessed
07. Riddled With Worms
08. Caverns Of An Ancient Chaos
Besetzung:
Rogga Johansson – Vocals, Guitar
Grotesque Tobias – Bass
Mutated Martin – Drums

Internet: