Band: Rob Mancini
Titel: Rock´n´Roll Circus
Label: GMG Records
VÖ: 2011
Genre: Melodic Rock
Bewertung: 5/5
Written by: Nicole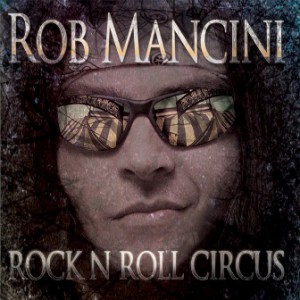 Fast ein Jahrzehnt lang hat man von Rob Mancini nichts gehört. Sehr schade, da Rob Mancini uns immer wieder bewiesen hat, dass er einen Draht für guten Rock hat. Das neue, hart ersehnte Album nennt sich Rock´n´Roll Circus und packt die Hörer vom ersten Takt an bei den Ohrläppchen und fährt in die Beine, wie sonst kaum ein Album in letzter Zeit.
Gerne fallen bei dieser Band Vergleiche mit Bon Jovi oder Nickelback, und bis auf die neueren Bon Jovi Scheiben trifft dieser Vergleich immer wieder zu.
Nach dem Intro Carnivals of Fools folgt nahtlos der Titelsong des Albums und der zieht vom allerersten Takt an gnadenlos, und das ohne jede Verschnaufpause bis zum letzten Ton. Danach sehnt man sich, außer Atem nach etwas Ruhe. Die bieten die Nachfolgesongs, Edge of a broken Heart und Everytime you cry. Beide erinnern mich an Trucker in Jeans und karierten Hemden auf dem Weg durch die Staaten. Aber genug geträumt, Running up that Hill, eine grenzgeniale Coverversion von Kate Bush, wartet mit einem grenzgenialen Gitarrenintro auf, holt mich auf den Boden der Tatsachen zurück und verlangt nach mehr. Und diese mehr wird mir bis zum Ende des Albums geboten. Zu erwähnen sei hier noch der schmusige vorletzte Titel am Album, Time Stopps for no one but you. Mit sehr viel Gefühl gesungen, ohne schmalzig oder überladen zu wirken, findet er sich mit wunderbaren Gitarrensoli in meinen Top 10 dieses Genres wieder. Der letzte Song am Album ist die Radio Edit Version von Edge of a broken Heart und verdient es auf jeden Fall, des Öfteren im Radio gespielt zu werden.
Fazit: Ein wunderbares AOR-Album mit vielen Elementen die sich nicht zu eng in dieses Genre pressen lassen, die aber gekonnt miteinfließen und dem Album das gewisse Etwas verleihen. Genrefans werden begeistert sein!
Tracklist:
01. Carnival of Fools
02. Rock'n'Roll Circus
03. Edge of a broken heart
04. Every time you cry
05. Running up that hill
06. Lay down the law
07. Weak as I am
08. Stranger in paradise
09. Too late to die
10. The Reaper
11. United we stand
12. Time stops for no one but you
13. Edge of a broken heart (Radio Edit)
Besetzung:
Line Up:
Rob Mancini (guit, bass, synth & voc)
Aine Mancini (back voc)
Live Band:
Chris McCarrick (guit)
John Doherty (bass)
Shaun Deehan (drums)
Jason Patton (keys)
Internet:
Rob Mancini Website
Rob Mancini @ MySpace