Band: The Bloodline
Titel: We Are One
Label: Another Century/Century Media
VÖ: 11.05.2015
Genre: Hard Rock/New Metal/Metalcore
Bewertung: 4/5
Written by: Peter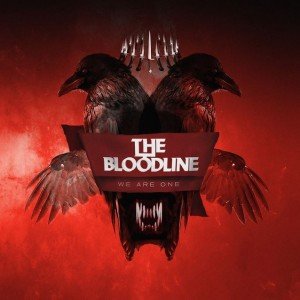 Da hab ich sie also vor: Die Promo der amerikanischen Burschen von The Bloodline. Sie releasen Mitte Mai ihr Debütalbum We Are One. Ganz schön pathetisch päsentieren sie sich in ihrem Schummelzettel für Presse-Fritzen: Da ist gleich zuerst davon die Rede, dass ihr Bandnahme, der die Blutsbrüderschaft beschwört, durchaus wortwörtlich zu nehmen sei; als sich die Band formiert habe, wäre da gleich die innige Verbindung gewesen, auf die der Name der neuen Ami-Kapelle hinweisen mag.
Nun, ja. Das mag man glauben oder nicht – Fakt ist, dass der erste Eindruck, den sie bei mir hinterließen, mehr als nur solide ist. Man merkt vom ersten Ton an, dass hier eine kompetente Mannschaft am Werk ist. Was anderes war wohl auch nicht zu erwarten, wenn man bedenkt, dass die Burschen teils aus Dirge Within, teils aus Divine Heresy gekommen sind, um unter dem neuen Banner von The Bloodline zusammen Musik zu machen.
Was bekommt die Hörerschaft am ersten auf Seltene Erden gepressten Lebenszeichen der Truppe geboten? Man fährt ein Programm, das sich seine Zutaten aus klassischem Hardrock (Gitarren, vor allem Gesang und Hooklines)  sowie an oft prägenden Stellen aus New Metal und Metalcore (teils beinahe growl-artiger Gesang und moderne Grooves) zusammenzimmert. Das Ganze ist durchdacht und auch intuitiv arrangiert, wird im Gesamtbild vor allem durch die Vocals Travis Neals geprägt, der einem den Einstieg in die Klangwelt der Truppe geradezu verzuckert. Die Gitarrenleads Chuck Wepfers tun ein weiteres, um direkt auf das neuronale Ohrwurm-Zentrum zu zielen. Und – das gelingt den beiden verdammt gut.
Kurz, was die routinierten Musiker hier vorstellen, wird nicht im Veröffentlichungssumpf untergehen. Sie präsentieren vor allem mitgröhltaugliche Songs, die die Bangerschaft anfixen werden. Woran es noch etwas mangelt, ist die Eigenständigkeit, die man von so erfahrenen Künstlern durchaus erwarten kann. Noch den einen oder anderen unerwarteten Groove oder Break einzimmern und schon hätte die Sache noch mehr Gesicht. Also eineinhalb Daumen nach oben für The Bloodline!
Trackliste:
01. The Bloodline
02. We Are One
03. Divided
04. The Blackout
05. Above The Rain
06. Dead & Buried
07. Poisonous
08. Midnight
09. Destroyer
10. With Fire (Comes Absolution)
11. Bedside Sorrow
12. Becoming The Disease
Besetzung:
Travis Neal – vocals
Chuck Hepfer – lead guitars
Shaun Glass – guitars
Frankie Harchut – drums
The Bloodline im Internet: