Band: The Prophecy²³
Titel: Green Machine Laser Beam
Label: Massacre Records
VÖ: 2012
Genre: Thrash Metal
Bewertung: 4/5
Written by: Thorsten Jünemann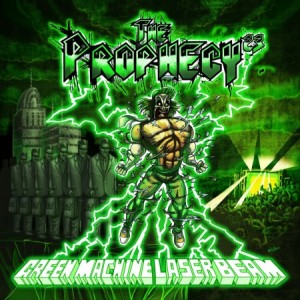 Seit 2002 unterwegs, veröffentlichen 5 Kerlchen mit ordentlich Spaß an NOFX und Thrash Metal in den Backen aus Heilbronn, 2012 ihr 2. Album "Green Machine Laser Beam".
Kurz und knapp:
Wer Humor hat, auf Thrash Metal mit vielen Death-, Core- und Punkeinschlägen steht, gern gut produzierten und in Szene gesetzten Metal hat, der sollte sich das Album nicht entgehen lassen. Nix wird neu erfunden, aber die zu fühlende Spiellust auf diesem wahrlich rotzigen Album reißt mich auch nach dem 8. Mal hören mit. Der von der Band beschriebene Begriff "Mosh Action Metal" sagt wirklich alles aus: egal was man sich darunter nun vorstellt, es kommt in irgendeiner Form auf diesem Album vor.
Killerriffs & Geschredder, Instrument beherrschende Musiker, hörbare Credibility, Abwechslung, Spaß…alles vorhanden!
Ich sage nicht, dass 100%ig alles stimmig ist, denn der ein und andere Hänger ist auch vertreten. Aber es überzeugt der hörbare Rest eindeutig davon, dass dies auf der nächsten Thrash Metal angehauchten Party ein kleiner Überflieger sein kann, wenn man dem "über-den-Tellerrand-schauenden" humorvollen Blick freie Sicht lässt und harte Rocker auch grinsen können. Auch den anderen Hartmusikkonsumenten, die dabei die Halfpipe rauf und runter bearbeiten oder Dosenwerfen mit dem Board betreiben (Kommt in der Wohnung nicht so gut…), wird das Album gefallen.
Live konnten sich The Prophecy²³ ihre Sporen bereits mit DEBAUCHERY, DIE APOKALYPTISCHEN REITER, und vielen anderen als Support verdienen, auch als Support-Act für AXXIS(???? Echt???), lt. der Info…!
Wie auch immer, mir ist dieser Spaß gute 4 / 5 Punkte wert, denn ich kann auch über mich selbst schmunzeln, grinsen, lachen – hier ist ein partymäßiger ("No Beer – What A Mess"- Klasse Song & Titel) Soundtrack dafür…!
Tracklist:
01. Tough, Cool And Here To Mosh
02. Ice Road Trucker Vs. The Sun
03. Don't Step Back
04. Beyond The Purple Pipes
05. Green Machine Laser Beam
06. Sergeant P Of The 23
07. We Are The Pit Police
08. Wake Me Up For Lunch
09. Honor To Whom Honor Is Due
10. Captain Quick And The Pirates
11. Call Your Friends To Hang Out
12. Don't Waste Time – Get Wasted (Now!)
13. No Beer – What A Mess (Radio Edit)
14. No Followers – No Leaders
15. Princess Of Gorleben
16. Guts.Gore.Reactor.Core.
Besetzung:
Philipp Heckel (voc)
Hannes Klopprogge (guit & voc)
Dennis Lidak (guit)
Mario Macaroni (bass)
Florian Sanden (drums)
Internet:
The Prophecy²³ Website
The Prophecy²³ @ MySpace