Band: Unborn Suffer
Titel: Nihilist
Label: Ghastly Music
VÖ: 01. Februar 2016
Genre: Brutal Deathgrind
Bewertung: 5/5
Written by: Lazer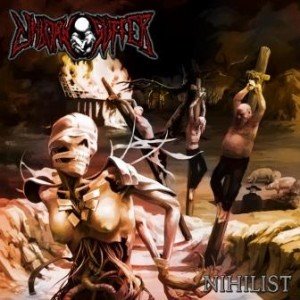 Der Februar scheint der Monat des Grindcore/Brutal Death Metals zu sein, vorläufig. Auch Unborn Suffer hauen diesen Monat ihren neuen Output "Nihilist" raus. Dieser Longplayer kann sich durchaus hören lassen.
Knapp 28 Minuten erfährt die Hörerschaft hier Brutalität pur. Vom Ersten bis zum Letzen Track spürt man die Morbidität und das Unheil dieser Platte. Die Arrangements sind so düster und schroff, dass einem teilweise schon der Atem stockt.
Die Drums auf "Nihilist" sind äußerst berstend und treibend. Der Bass ist satt und bebt wie Sau. Die Riffs sind hart und Melodien gibt es keine. Gut, gibt es doch, aber die rücken sehr wohlwollend in den Hintergrund.
Bei "Life Is A Lie" verwenden die Jungs aus Polen ein Intro, das Amagortis schon 2011 bei "If You Can't Fuck It, Duct It" verwendet. Anfangs könnte man von einem Cover ausgehen, ist es aber nicht.
Erstaunlich bei Unborn Suffer ist, dass sie eine grandiose Mischung aus richtig brutalen Elementen mit Elementen mit einem Schuss Fröhlichkeit und Partylaune vereinen können.
Insgesamt wirkt die CD trotz 17 brutaler und bestialischer Songs sehr kurzweilig und wird auch nach dem Siebten Male nicht öde. Im Gegenteil, man kann immer mehr und mehr mitgehen. Unborn Suffer verbauen nämlich ab und an auch mal richtig lustige Beats, die einem Grindcorefest nahe kommen, und teilweise an so geile Beats wie von 5 Stabbed 4 Corpses erinnern.
Mein Fazit: Richtig heißes Eisen zum kühlen (ok, lauwarmen) Jahresanfang. "Nihilist" von Unborn Suffer darf sich heute schon berechtigte Hoffnungen auf den Sieg bei "Album Of The Month" machen.
Tracklist:
01. Obscurity
02. Open Defiance
03. Tyler Durden
04. Life Is A Lie
05. Extorted Humanity
06. Post Abortum Pt.3
07. 08.09.1968
08. Vain In Cage
09. Hopebreaker
10. Dance Like They Want
11. Existence Dies
12. Destroy What Destroys Us
13. Self Purification
14. Filthy Liars
15. Grind Until I Die
16. L.A.W. (lost All Worth)
17. Nervous Breakdown Of The System
Besetzung:
Damian "Sfenson" Bednarski – Vocals, Guitars
Piotr "Dreadrock" Wisniewski – Vocals, Bass
Lukasz "Lukass" Ziólkowski – Drums
Internet: